10 x 10 Easy Pop Up Party Tent Canopy Shade Tent with Mesh Sidewalls Beige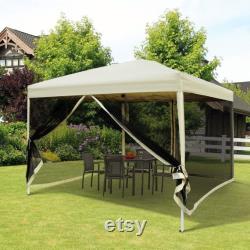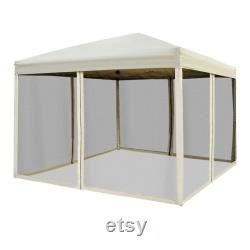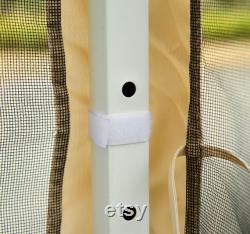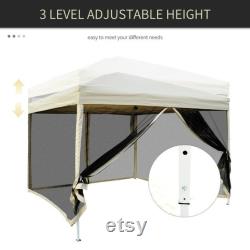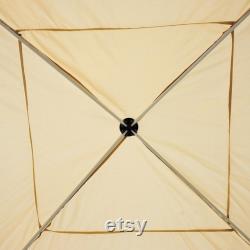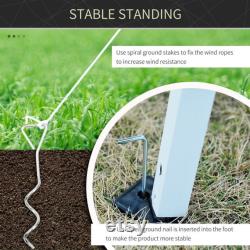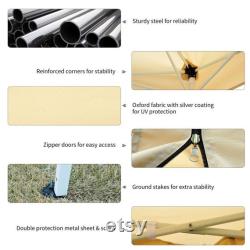 - multi-use: our pop up gazebo tent with straight leg design and water resistant roof offers an open-air feel for a variety of outdoor activities including weddings, flea markets, fairs and a variety of special events. Simple, easy setup: you'll save time and energy with a quick and easy setup and takedown process. Your instant canopy will be ready for use in a matter of minutes. Set up will require 2-4 people to pop up the legs simultaneously. Take down is just as easy.
Proper protection: the easy up canopy top is built from polyethylene material to includes mesh walls for extra sun protection and an added intimate feeling of being indoors, ventilate and provide protection. Lasting durability: a sturdy steel frame with adjustable legs and a powder coated finish for stability, lasting durability and quality performance again and again. Easy to transport: the foldable party tent w/ mesh side walls features a foldable frame and included carrying bag making it easy and convenient to transport from one location to the next.
The walls attach/detach with hook and loop fasteners for easily assembly/removal. Wasting away in the summer heat thankfully outsunny has got you covered our new 9.7' x 9.7' pop up screen tent is perfect for anyone who wants to have the open-air feel all day long. Perfect for any occasion including family gatherings, picnics, weddings, or flea markets, this tent provides a place to relax away from the sun' harmful uv rays. This easy pop-up canopy features a steel frame with an easy pop-up design so you can have your tent set in a matter of minutes. High quality, stable steel framework.
Walls attach with hook and loop fasteners. Full 9.7'x 9.7' straight leg design. Easy setup and tear down.
Materials: polyester cloth, pe mesh, steel. Outer dimensions (feet): 9.7' x 9.7'. Highest interior point (feet): 8.5'. Low point of side wall at highest setting: 5.8'.
Three height settings at 3.25 intervals. Net weight: 29.7 lbs. This item is made of pecover and pe, steel.