10 x 3 Pound Sterilized Whole Oat Grain Spawn with Injection Port and Filter Patch FREE SHIPPING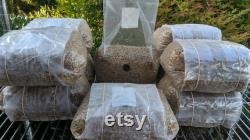 This listing is for a 10 pack of 3lb sterilized whole oat grain spawn bags these work great for growing beautiful and delicious gourmet mushrooms from home. Whole oats are resistant to contamination and will grow mycelium very quickly. Every bag is sterilized in the pressure cooker at 15 psi for 90 minutes. Each bag comes with a self-healing injection port and a. It is ready to inoculate with your favorite gourmet strain as soon as you open the box all you have to do is sterilize the needle tip of your syringe and then penetrate the injection port.
The injection port will greatly reduce the chances of contamination. Thank you very much and please feel free to reach out if you have any questions. This item is made of bag and syringe, filter patch, water, impulse sealer, bucket, mycelium, pressure cooker, strain, burner, spores, needle, spawn.