10 x 5 Pound Sterilized Rye Seed Gourmet Mushroom Spawn with Injection Port and Filter Patch FREE SHIPPING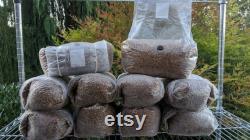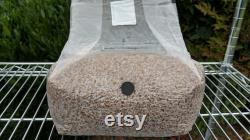 This listing is for a 10 pack of 5 pound sterilized rye seed grain spawn bags. 2 micron filter patch and a self-healing injection port for easy inoculation.
All you have to do for inoculation is sterilize the needle tip of your syringe, penetrate the injection port and add 3-5 ccs of spore or liquid culture solution and wait 10-14 days for them to fully colonize, then you will be ready to grow beautiful and delicious mushrooms. Every bag is sterilized at 15 psi for 90 minutes in the pressure cooker. Satisfaction is guaranteed, so if you ever have any issues with your bags, you can reach out to me and i will send you a replacement bag.
Please feel free to reach out if you have any questions about the product. This item is made of bags and rye, water, pressure cooker, burner, impulse sealer, injection port, filter patch, spore syringe, edible, medicinal, fungi, rubber bands.