10x6.6x6.6FT Upgraded Large Walk-in Greenhouse Heavy Duty Galvanized Steel Frame 2 Zippered Screen Doors 6 Screen, White or Green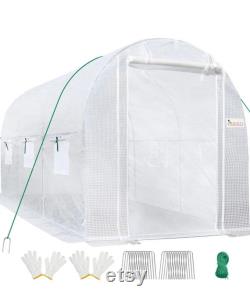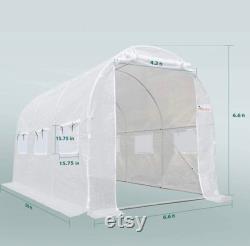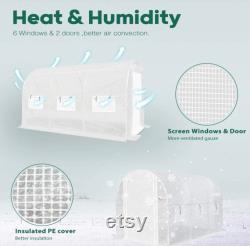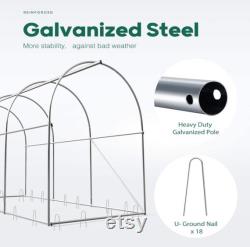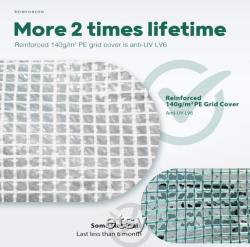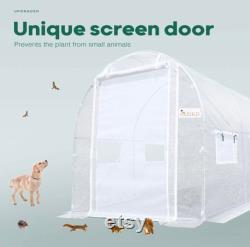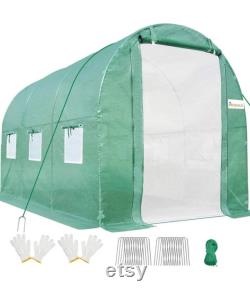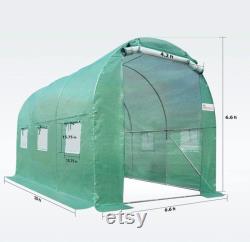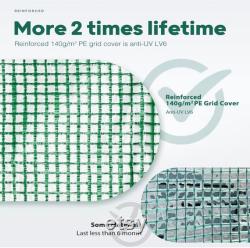 10x6.6x6.6ft upgraded large walk-in greenhouse heavy duty galvanized steel frame 2 zippered screen doors 6 screen windows tunnel garden plant hot green house 18 stakes 4 ropes 2 gloves white or green color. Item dimensions lxwxh 120 x 79.2 x 79.2 inches. Heavy duty galvanized steel polethe king bird greenhouse is professionally designed, with 8 poles at the bottom to reinforce the entire structure, extra 18 stakes, 4 ropes to fix it on the ground firmly, made of heavy-duty 0.7mm thickness galvanized steel, the greenhouse protect plants from wind, rain, and snow around the year. The size of the greenhouse is suitable to be placed anywhere in the yard, the large space is perfect for vegetables, tropical plants, and so on, ideal for beginners.
2 entrances & 2 zipper screen doors2 entrances on both sides of the greenhouse kits, much convenient and also greatly increases the ventilation. The unique multifunctional doors have 1 pe door and 1 screen door, with independent zippers, you can use the pe door to keep warm and the screen door to stop troublemakers when ventilating. The edge of the cover is 3-layer sewing, which can prevent tearing when using the zipper. Durable uv protection level 6 pe coverreinforced 140g/m2 pe grid cover is uv protection level 6, protects your plants from uv damage, 100% waterproof, increases the service life 2 times: most cover is uv protection level 3, only lasts for 3-6 month, the king bird cover last for over 1 year.
The pe cover is odorless, so you can work in the green house without worry. After thousands of tests, the size of the cover fit the frame closely, it enhanced the warmth and wind resistance in winter. Temperature humidity management there are 6 roll-up screen windows and 2 vents on the door to allow for cross-ventilation and heat humidity control. The temperature can be increased in hot house to advance the plant period in spring, 8 vents can enhance ventilation on hot days in summer.
The tunnel tent green house keeps warm in winter and protects plants from storms, wind, snow, frost. The greenhouse offers a better environment for tropical plants and provides a nice home for lovely plants. Product dimensions 120 x 79.2 x 79.2 inches.