1V Geodesic Dome Hub Brackets DIY Kit Metal Connectors to make Igloo, Greenhouse, Pop Up Canopy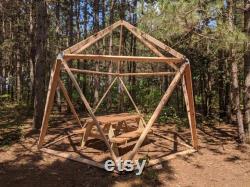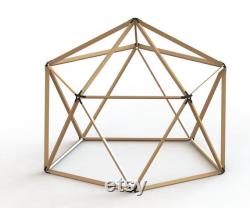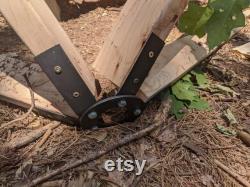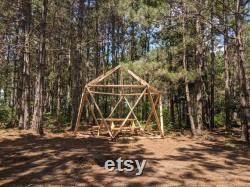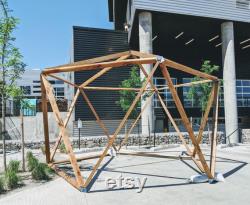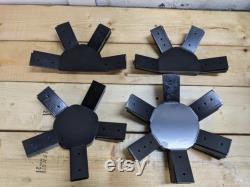 This dome kit takes all the legwork out of calculating your own complicated cuts and measurements from constructing your own wooden geodesic dome. This is the easiest type of dome to construct and requires the least amount of struts. These easy to install hubs make assembling the dome very simple with only the need for a drill and some screws. All that's needed is 25 pcs of 2x3's or 2x4's of you choice. Depending on what size lumber to go with will affect the size of the dome.
(7ft 2x4's were used in the dome that's pictured which as a result made the dome stand almost 10ft tall). This type of wooden dome is very sturdy and will be strong enough to act as a frame incase you would like to enclose it with lumber, canvas or clear vinyl. This dome is the prefect structure for patio's, markets, hotels, or gardens.
Our hubs are made up of 1/8 hrs steel with a black enamel finish. These hubs are also weather resistant and will withstand being exposed to the elements for years to come. Assembly: the provided manual will have detailed assembly instructions that are so easy one person could put one together in 1-2 hours. Timber domes are perfect for. 2.5 long construction screws.
All of our hubs are designed and manufactured in chicago il, usa. Please note that the last 2 images show our older hub design. This item is made of zinc plated steel.