1V Geodesic Dome Igloo, Greenhouse, Isolation Tent for Outdoor Patios and Gardens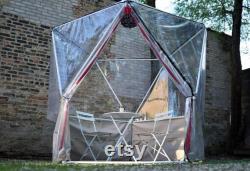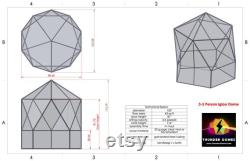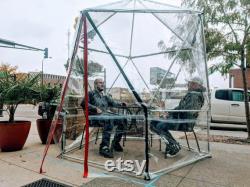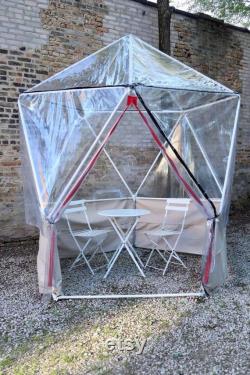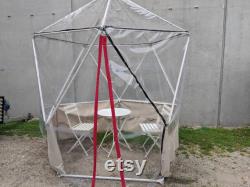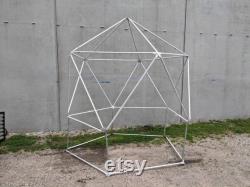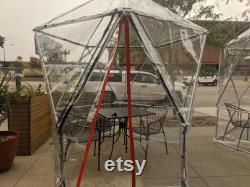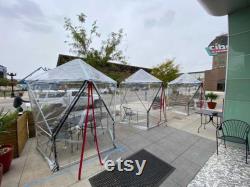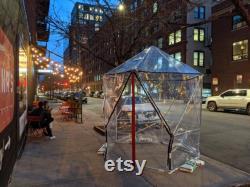 This new line of geodesic dome tents was designed after several restaurants reached out to us needing a solution to give their guest a safe place to dine on their patios. The 1v dome offers a cozy enclosed space to comfortable seat 2-4 adults while the beige side skirt offers some privacy while being in public. The steel frame is designed to withstand any outdoor conditions while the 3-piece cover system lets the user feel close to the elements. The dome could also be used for outdoor grow space and the thick 20 gauge marine grade vinyl will hold up to 1000's of hours under intense uv radiation. The greenhouse is about 7ft in diameter and is about 8ft tall. Entry in and out of the dome is by a heavy duty double sided zipper. The frame consists of heavy duty 1 galvanized steel tubing and could be easily assembled in 1 hour with standard nuts and bolts. The cover system is comprised of 3 hand sewn vinyl panels that come together via heavy duty velcro to create a waterproof seal. New: fire retardant clear vinyl option. Our new material option meets nfpa-701 national standards.
This material is imported from japan and offers a safe enclosure if you decide to add a heating element to the dome for winter use. The 1v enclosed dome system includes. 1x entrance panel with zipper. This item is made of steel and vinyl, canvas.