2.36 Ft. W x 1.63 Ft. D Hobby Greenhouse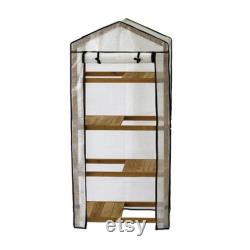 The vegtrug nursery greenhouse is an innovative high-quality greenhouse suitable for any garden or growing area, large or small. Manufactured from 100% fsc certified cedar wood that is treated with a water-based preservative, the nursery is adjustable to your requirements, the four shelves can be moved to enable a variety of seeds and plants to be grown with ease. The shelves can also be moved to accommodate the growth of vine plants.
Includes a greenhouse cover in reinforced pe of the best quality with an opening section allowing easy access for planting, harvesting and moving produce when needed. The cover can also be closed to insulate produce or seedlings when cold, providing the perfect conditions to extend the growing season. The nursery is designed to be used as a stand-alone unit, or it can be combined with other products in the vegtrug range. The vegtrug wall hugger and wall hugger side table can be combined with the nursery to create a full growing station, in the smallest of areas. Growing trays, a crate, a micro mesh cover for keeping aphids and insects away for your plants and a replacement pe cover.