2'x4' Laminar Flowhood FFU. 99.999 H14 Filtration Ready to Ship Now Price Can't be Beat Our Nicest Hood Yet Your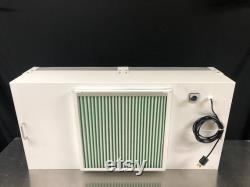 Our 2x4' laminar flowhood ffu's are unbeatable in price, and functionality 99.999% hospital grade h14 filtration. Better than standard 99.97% hepa filtration 3 speed adjustable flow out the front so you can turn it down when working with spore prints, or up high when doing grain transfers. Give yourself 8 square feet of sterile field with our new 2 ft tallx4 ft long flowhood ffu's these only weigh 38 pounds, with no big bulky blower on top, made of metal.
These are bulletproof, super quiet, light weight, and put out 100fpms of laminar flow so two guys can sit/stand in front of, and do grain transfers, agar/lc work, inoculations, etc. No wait on our hoods either.