32 GAL 8 Bag Kit All Mesh Bubble Hash Bags Extractor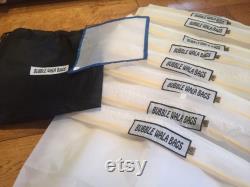 High-quality extraction bag kit with micron varieties. Discover our renowned extraction bag kit, well-known for its exceptional quality worldwide. This 32-gallon 8-bag set boasts full mesh design, and each bag is meticulously labeled and color-coded according to its specific micron size: 220, 190, 160, 120, 90, 73, 45, and 25 microns. In addition to the eight bags, the kit also includes a crucial 25-micron pressing screen (measuring 10 x 10 inches) for an essential part of the drying process.
You'll find a convenient carrying bag included, making it easy to store, and it fits snugly into a 32-brute plastic trash bin. Our bags are engineered to deliver outstanding results, with faster drainage, extended durability, and no need to peel anything off. With over 10 years of industry experience and expertise in offering extraction bags and machines, we've honed our art to provide you with top-tier extraction bags, guaranteeing the highest yields. Feel confident when you place your order, as we stand by our product's quality with a 100% satisfaction guarantee.
Crafted from durable, premium-quality mesh, our extraction bags are built to last. If you encounter any concerns or issues, don't hesitate to reach out to us, and we'll go the extra mile to ensure your complete satisfaction. Explore the 32 gallon 8 bag set with all mesh design, designed for efficient drainage and extended longevity. The kit includes eight bags with varying micron sizes: 220, 190, 160, 120, 90, 73, 45, and 25. Additionally, it comes with a 25-micron pressing screen and a storage bag for your convenience.
This item is made of 32 gallon bubble bag kit and 32 gallon 8 bag kit.