40' 12' 7.5' Greenhouse, Large Walk-in Greenhouse, Portable Greenhouse with 2 Roll-up Zippered Doorsand20 Screen Windows, White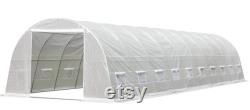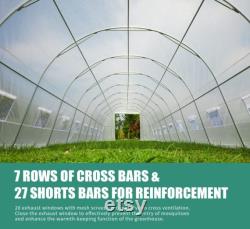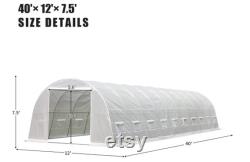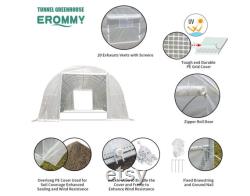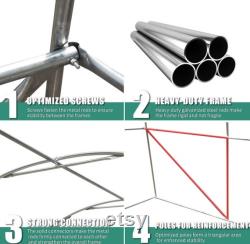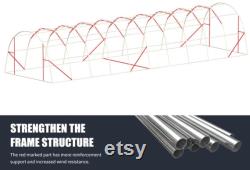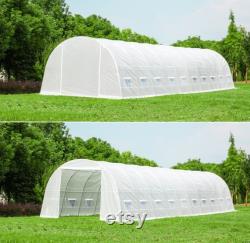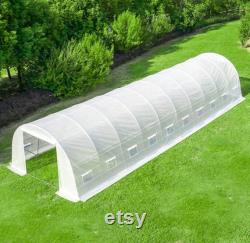 Pe materialthis green house is made of pe material plastic cover, which is tough and durable, 100% waterproof. The transparent greenhouse cover can transmit 85% of the sun while blocking ultraviolet rays to protect plants from harm.
2 doors & 20 windowsthis green house for outside is designed with 2 roll-up zippered doors and 20 exhaust windows. The double doors provide convenience for you and your family's access and planting. 20 screen windows with velcro make the interior of the conservatory fully ventilate. Steady frame structurethis greenhouse for outdoors is made of a powder-coated metal frame, and four diagonal rods are designed at the four corners of the conservatory, which has good resistance to rain and snow.
The ground frame adopts u-shaped piles to effectively grasp the ground and reduce wind resistance. Upgraded sizethis portable greenhouse has an upgraded extra-large size of 40'(l)12'(w)7.5'(h), and the size of the two roll-up zippered doors is 5.6'(w) 6.3'(h). The interior of the large greenhouse is super long and spacious, which can accommodate more plants and also provides you with more space for planting outdoor plants. Widely applicablemellcom tunnel green houses for outside winter are of high quality and long lifespan, providing a warm and humid environment for plant production throughout the year. Even in the dry winter, our greenhouse is suitable for growing fruits and vegetables, flowers and plants, and potted plants.