48 Plants Vertical Hydroponic, Aeroponics Grow Tower Indoor Outdoor Garden System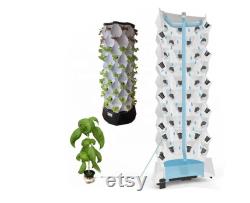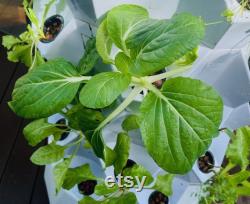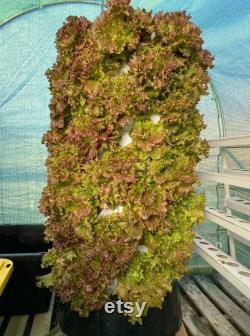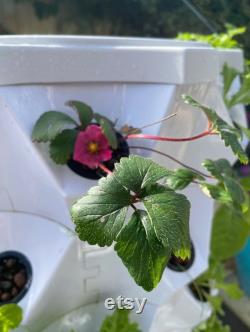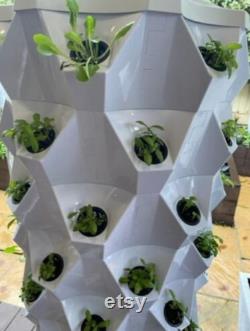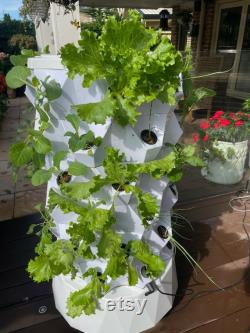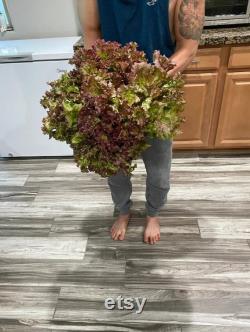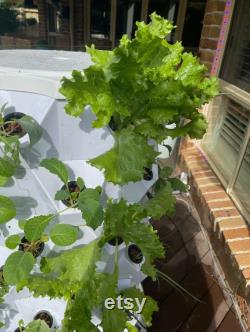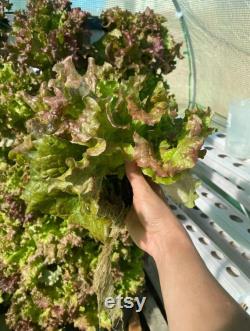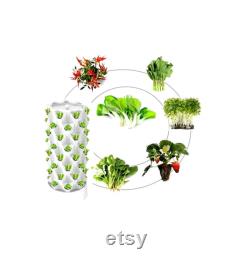 48 plants vertical hydroponic aeroponics grow tower indoor outdoor garden system. (include 500ml a&b nutrients, horti-cubes & 5 pack seeds). Vertical grow garden systems for organic farming: this item is a vertical growing eco system, specifically engineered to maximize yield and automation, producing a fresh harvest with minimal effort. Great results every time: specifically tailored to provide the optimum controlled environment for growing a wide range of agricultural products in all environments and climates. With our combination of science, research and lab-tested hydroponic systems you get a significantly higher yield that grows faster consistently. Highly energy efficient: this enables the recovery of a very large percentage of energy already used in typical farming methods, saving approximately 66% energy. Highly efficient water savings: only a fraction of irrigation water is used by the pants itself, with no wastage. Grow up to 40% more healthy organic food, 3x faster the vertical tower garden grows plants with only water and nutrients.
Our systems can grow plants 3x faster and produce 40% greater yields on average. That means you'll be enjoying abundant of greens and herbs with your vertical tower harvests all year round.
Vegetable and herbs grow 3 times faster than 30% greater yields. Aeroponic vertical farming tower garden system grows plants with only water and nutrients rather than dirt. Aeroponic systems grow plants three times faster and produce 30% greater yields on average.
That means you'll be enjoying. Abundant, nutritious harvests just weeks after planting.
Simple and fast installation, saving customers the remaining time cost. Better protect from pests and diseases naturally without pesticides.
Pests, diseases, weeds-traditional gardening can be complicated and time-consuming, but aeroponic garden tower system delivers water and nutrients automatically when they're most needed, you can get strong healthy plants with minimal effort. And healthy plants can better protect themselves from pests and diseases naturally, without pesticides. Plus, you do not have to deal with weeds(or getting dirty) because there's no soil. 10% of the land and water than traditional.
Want a garden but do not have the space dealing with drought because of its vertical, compact design and closed-loop system technology, aeroponic vertical farming tower garden system requires as little as 10% of the land water traditional growing method use. So its perfect for sunny small space, such as balconies. Patios, rooftops-even your kitchen provided you use grow lights. As a closed farming system, vertical tower is protected from extreme weather conditions and a lack of freshwater resources. This is because the growing conditions are created using carefully designed modules to maximize yield.
Vertical tower makes cultivation possible in areas where the production of traditional vegetables is impossible, and the freshwater resources are limited. The system also enables the sustainable and local production of clean vegetables. Vertical tower garden: supporting a healthy lifestyle with sustainable gardening methods. The growth cycle of vertical tower includes initial seeding in horti-cubes , transplanting into the included net pots, and harvesting of the plants.
Vertical tower uses a nutrient film technique as a growing system. This technique is an advanced version of the traditional hydroponic cultivation. Nutrients and co2 are fed constantly to the system, in an efficient and. Effective automated process yielding maximum results.
6 layers vertical tower hydroponics system. It is consisted of a number of cultivation parts and a planting pods.
Characteristic is eight cultivation subjects are combined into a circle, stacked together and placed on the water tank to form planting vertical. The water inlet part install in the top layer, and connect the water pipe, then cover the top. The cultivation part is a planting area, and the nutrient solution drips from the top through the main body diversion plate of each. Layer to the planting growing pods below so as to keeping the roots wet. 6 layers size 60 cm wide by 110 cm high. Water pump 110-240v 2500l/h 15w. Package dimension 676735cm / 14kgs.
Plastic net pot 48(net cup). Water pump 1(ac input). Water pipe 1(for watering).
Timer socket 1(for pump). Setting up the eeko hydroponic tower has never been easier.
Simply follow the easy video instructions and you'll be growing in no time. Allows for plants to be grown in low light conditions. Perfect for locations with limited light conditions and indoors. Full back up and support from hydroponics. This item is made of hydroponics system and hydroponic garden, outdoor gardening, indoor gardening, home gardening, vertical garden, hydroponic kit, garden tower, vertical tower, home growing system, hydroponic tower set, growing system, home grow kit.