4 Spot 6 inch Hydroponics Tube with connection tubing 52 long Baby to Adult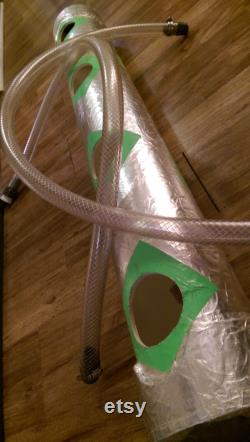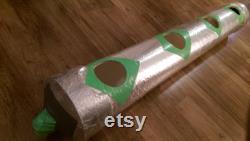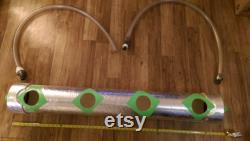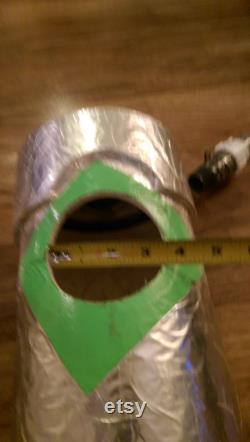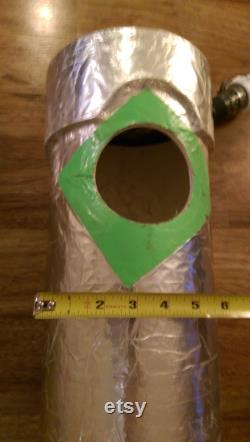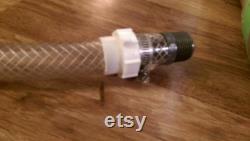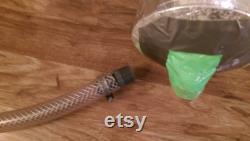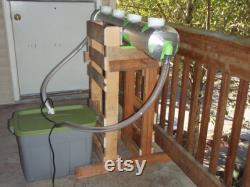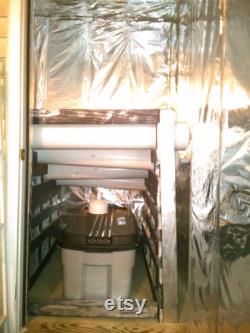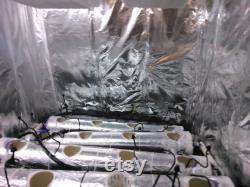 Wall of green : hydroponics tube - 4 planting spots. 52" long (48" long interior) - 6" wide interior - 12" between plants - babies to adult with no transplanting. 6 inch wide interior of tube. Internal l-shaped fixtures on either end, raise the water level in the tube, to almost full. One inch or less of tilt and the flow is stable.
This is a crazy specialized and smart thing to do. All the hard stuff, done.
4 holes: 3.25 diameter openings. 1 tube dumps into your aquifer/bucket. The other has the necessary connectors for the water pump. Get the lowest gal/hr water pump available and you will be golden.
Tube has been coated in reflective surfaces to keep uv rays away from the pipe & water. Grip tape is for color and protection against use/scraping. Designed for 4 plants to go from baby to adult in one location. Marijuana plants will root themselves along the walls of the tube, with their own stability, as they grow into adults.
No filler needed only put medium in your cups until juvenile; then cut the plastic cups away. 15-20 gallon aquifer/bucket seems sufficient. Value: end-caps were $35 each ($70). The tube it was cut from was $140. Fixtures: $35+ the thin tubes $10-15. The huge cutting doorknob-like tool to cut the holes $35 (+the drill & attachments). And 1-2 weeks to get this right. Or, do all this stuff. If you are going from scratch with this project; i recommend these remaining supplies. The 15-20 gal aquifer bucket (home depot) this must have the capacity of the tube + the reservoir. If indoors: led multi-spectrum lighting unit. One lighting block (1.5ft x 2ft) can cover 2-ish of these tubes next to each other. Its all about the coverage. If indoors: get an expensive ($25-$100) red light led for the bloom phase. If indoors: like, all the aluminum foil & tacks (dollar store). For creating a reflective room. Also, very important: if indoors & why you do this indoors (aside from temp & weather): get many, many trash bags/ plastic sheets. Cut the trash bags into flat sheets. Seal your room with these under the reflective foil.
$10 (dollar store) also get a good staple gun & strong staples $25 (home depot) overlap sheeting where you have stapled. This is your seal against mites and mold. Reflective goes over this so make it tight to the walls. If indoors: a fan to vent air out (resale store).
(home depot) generally: the fan on 1/on 2/on 3. Depending on your current weather & season. Fan at outtake or intake. Baby (1x), growth (2x), bloom (3x the food) (plant store) $40 per container is what i was paying. It only has to raise the water a few feet.
Optional: air pump $30, clear air tubing $10, 5-6 way multi-tube splitter $5 (one for each plant & the aquifer), air stone(s) for reservoir $8 and water tube spots (even more-ly optional, but good for the plant's roots $8) -all from same (plant store or home depot) provider. A structure to put the tube on; usually above the aquifer/bucket. I made mine out of crappy spare wood, paint, enamel spray & nails. A small bag of growth medium cubes.
Some possible rock growth medium for your larger cups. Disposable: little cups with root holes that you can cut apart as the plants grow.
Or shot-glass red cups which you cut holes in the bottom (dollar store) $1-2. Disposable: actual red, beer pong cups which you cut holes in for roots to be in water; for juvenile phase.
Disposable: plastic cups which fit the holes in the water tube; which you cut holes in that must reach the water in the tube. Examples shown and provided $4-8 (dollar store/resale store). Internal water heater for the aquifer bucket. Barely optional: automatic ph dispenser and chemicals for it. This price rarely will drop to $200; but unlikely.
Window winter-seal strips: for your door, bottom of door, windows, etc. $5-$25 depending on your needs (home depot). Automatic timer: for turning the lights on/off 30 (home depot). A wall thermometer $8-$15 to generally monitor your room's led heat vs ambient temp of intake & outtake air flow. Power strip with surge protector $25 (home depot).
This item is made of pvc.