4x2ft Horizontal FloCube Laminar Flow Hood Clean Booth Combo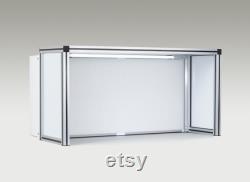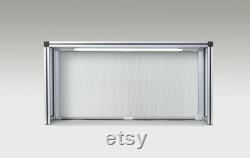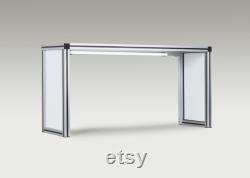 Includes 4x2ft flocube flow hood with replaceable h14 hepa filter & merv 8 pre-filter. Includes 4x2ft flocube horizontal clean booth.
Model #flo-ffu42h14 4ft x 2ft flocube with replaceable h14 hepa filter & merv 8 pre-filter. Flocubes are laboratory-grade flow hoods designed specifically for use in mushroom cultivation. Commercial grower or home hobbyist, this is the polished proven product you have been searching for. Powerful 110v single phase ac motor with three-position speed control. Replaceable hepa filter & pre-filter.
20 gauge steel sheet metal housing with glossy white epoxy powder coat finish. 8ft power cord with usa standard plug with ground. Solid stainless steel pull handles.
Hepa filter: aluminum alloy frame with micro fiberglass paper media. Resistance: 0.327 inches w. Average air flow: 715 cfm.
Average air velocity: 90 fpm. Ffu 46 1/4 x 22 5/8 x 14.
Main filter 46 1/8 x 22 1/2 x 3. Pre-filter 19 1/2 x 19 1/2 x 1. 4x2ft flocube horizontal clean booth. You will need the following tools to assemble. A cordless drill with a phillips bit to mount the top tray assembly.
A butter knife or similar tool to assist installing the gaskets to seal up each panel. Maximize every square inch of hepa filter real estate and increase your sterile work area beyond the filter face by adding a flocube clean booth to your flocube ffu.
4040 series aluminum extrusion construction. Convert any workspace into a mini cleanroom environment with our portable benchtop horizontal clean booth and a flocube flow hood. Bio-tech hepa enclosure designed for mushroom cultivation, genomics, and cell biology. Designed to fit 4x2ft flocube ffus. Our affordable laminar flow clean booth is portable, durable, and chemical resistant 36 led light. Chemical resistant polypropylene enclosure panels resist common acids, solvents, and disinfectants. Can be completely disassembled for a deep cleaning, then rebuilt. Clean booth 49 13/16 x 24 3/4 x 13 1/2. Ffu & cb combined 49 13/16 x 24 3/4 x 26 1/2.