4x bags of Lions Mane Grain Spawn 3 Pounds each 12 Pounds in total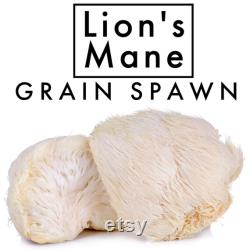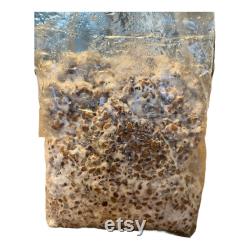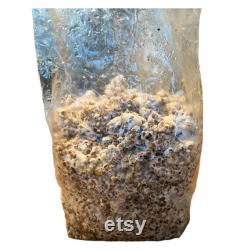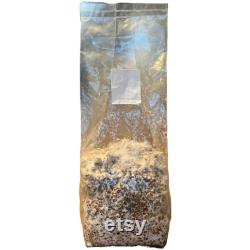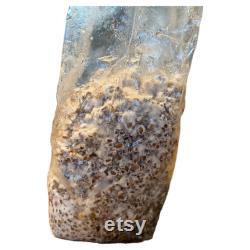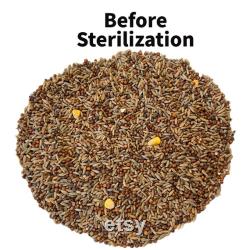 4x bags of lions mane grain spawn 3 pounds each - 12 pounds in total - rye and milo grain. Grain spawn is used to boost the mycelium into a state of exponential expansion where it can then be launched into bulk substrates. A single bag of the grain spawn can expand out to 10-12 bags of fresh uncolonized grain, or it could expand out to 5-6 bags of 5 pound bulk substrate. It's possible to do both and expand out for 10-12 additional grain bags, and each of those then expand out to 5-6 bulk substrates.
You would end up between 50-72 bulk substrate containers 5 pounds each. That's a lot of lion's mane spawn. Uncolonized grain and bulk substrates must be properly sterilized before they can be used. The grain used in this spawn is a mixture of rye, milo, and corn kernels.
It has been sterilized in advance at 15 psi for 2 hours. The lion's mane spawn bags are made fresh at the time of your order. There is a 10-14 day processing window at the time of the order to colonize the lion's mane spawn on fresh grain.
Sterile techniques should be practiced when working with mushroom substrates. Take care to have clean hands and a clean environment.
70% isopropyl alcohol is great for spraying with work area and spawn containers. If possible perform all work in front of a flow hood. 3 pounds of lion's mane spawn per bag, 4 bags to a package sized in a 5in x 4in x 18in bag. The spawn is a block of colonized lion's mane mycelium growing on sterilized grain mixture.
Rapidly expand mycelium onto other grain or bulk substrates. Bags are prepared in front of a flow hood.
This item is made of rye grain and milo grain, lions mane mycelium.