55W UV Sediment and Carbon Well Water Purifier Water Purifier System 12 GPM UV Sterilizer with 4.5 x 10 filter housing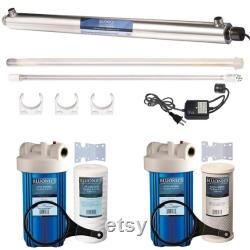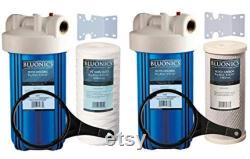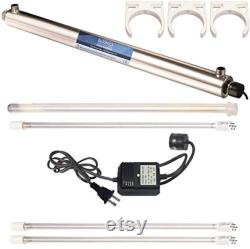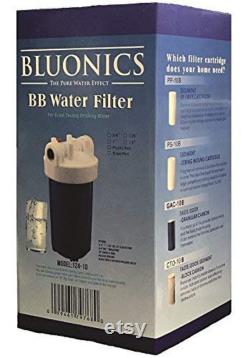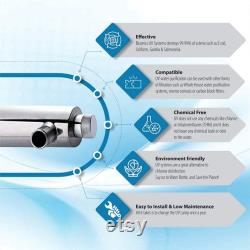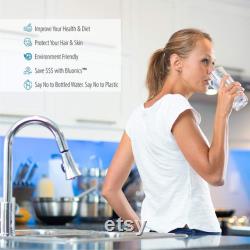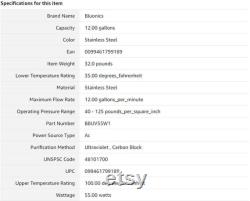 Item dimensions lxwxh44 x 12 x 8 inches. Lower temperature rating35 degrees fahrenheit. Maximum flow rate12 gallons per minute. Powerful & reliable: 55w whole house 12 gpm uv ultraviolet sterilizer water filtration unit safe: this system does not use any chemical products.
Strong: stainless steel unit capacity: 12 gpm inlet/outlet: 3/4" ntp 36" uv lamp: 55w 110v complete system with mounting clamps, glass tube and uv bulb long lasting: uv bulb change times: 1 year. 2 heavy-duty construction 10 whole house water filtration syste-ms with (20 micron) string wound sediment and (5 micron) carbon block cartridges. Excellent to remove sediment, chlorine, odors and many other chemicals and contaminants. Stage 1: 20 micron string wound sediment filter.
For particles such as sand, dirt, silt, and rust. To remove these particles, it allows a better performance for the following carbon block filter. The string wound sediment filter offers a longer cartridge life, higher flow rate, greater dirt holding capacity, lower pressure drop and more efficient when compared to other sediment filters. Stage 2: 5 micron carbon block filter.
Removes chlorine, bad taste, odor, organic solvents and chemicals that contribute to bad taste and odor. Also a large variety of contaminants linked to cancer, like pesticides, herbicides, insecticides, trihalomethanes, benzene voc's, pcb's, mtbe's along with hundreds of other chemicals and contaminants that may be present in our water.
Stage 3: 12 gpm uv ultraviolet sterilizer. This system is chemical free, doesn't change ph, no chlorine.