600W Hps Mh Grow Light Kit Hydroponic Hps Mh Grow Light Bulb Kit Magnetic Ballast Reflector Hydroponic Grow System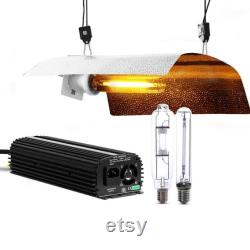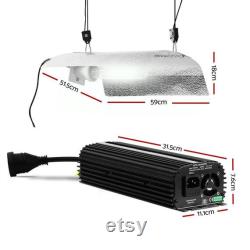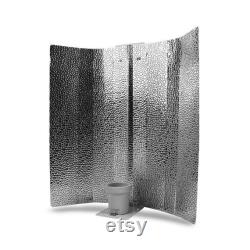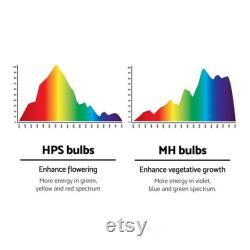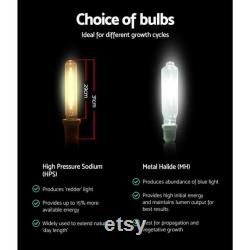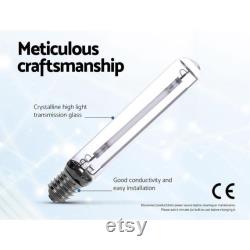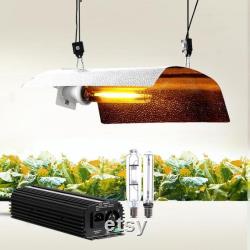 600w hps mh grow light kit hydroponic hps mh grow light bulb kit magnetic ballast reflector hydroponic grow system. The 600w hps mh grow light kit features an electronic ballast that is suitable for use with both 600w high pressure sodium (hps) and metal halide (mh) bulbs. It has a 4-phase manual dimming that can help to prolong the lamp lifespan by at least 10% with up to 30% energy savings compared with magnetic ballasts. It also features several protective functions including short circuit, circuit, overheat and lamp failure protection. The bat wing reflector spreads and directs the light in a downward focus to cover small to medium-sized plant growth areas.
The compatible wattage hps grow bulb can be used outdoors or indoors and as a thick glass housing for extra durability, enhanced wavelengths and lumen output power. The bulb is ideal for blooming and flowering and mainly produces a red spectrum that is perfect for germinating, flowering, and fruiting stages. Likewise the mh grow bulb is also ideal for blooming and growing stages and produces a blue spectrum that is perfect for all plant growth. The grow light can be hung in vertical or horizontal positions. The lamp does not flicker and works quietly and effectively.
A pair of reflector yoyos is included to secure the reflector quickly and easily. The yoyos are made of a special composite material that is rust-proof and heat and cold-resistant. Suitable for hps and mh bulbs. Prolong lamp life span at least 10% and energy saving up to 30% compared with magnetic ballast.
Protection function: short-circuit protection, circuit protection, overheat protection and lamp failure protection. Good regulation against supply voltage variation.
Constant wattage output if the supply voltage varies. Output frequency: greater than 30 khz. Power factor: greater than 0.99. Matching wattage hps grow bulb: 2100k.
Matching wattage mh grow bulb: 4000-6400k daylight. Dimmable: 4 phase manual dimming: 250w, 400w, 600w, super lumens. Maximum lighting distance: 15 meters. Usage temperature: -40 to 55c, with built-in thermal protection device fitted to 105c and restarting at 55c.
1 x 600w hps grow light lamp. 1 x 600w mh grow light lamp. 1 x dimmable electronic ballast. This item is made of hydroponic grow light kit bulb.