6x Sterilized Rye Grain Jars with Modified Leak-Proof Plastic Lid, Quart Organic Rye Berry Mushroom Grain Substrate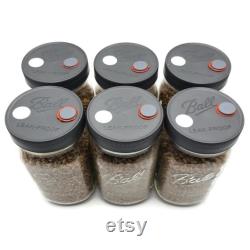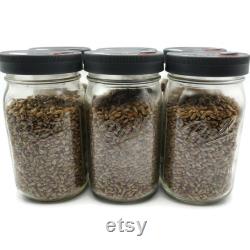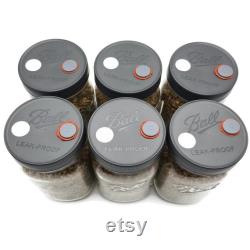 3x sterilized rye grain jars with leak-proof & rust-proof plastic lid - quart sized. Leak-proof & rust-proof plastic lids. Our organic rye berries are soaked for 24 hours in gypsum water.
Each jar contains 1 pound of optimally hydrated rye grain. The jars are topped with modified lids. These modified lids are made to be reused multiple times.
Plastic mycology lids are great for mushroom cultivation, as they don't rust and will hold up in the pressure cooker. Jars are pressure cooked at 17 psi for 90 minutes to ensure contaminate-free grain.
We assemble new rye grain products about every other day. All rye grain orders will be filled by jars that are less than 48 hours old. We're excited to help you with your mycology goals. Please feel free to message us with any questions about our rye grain jars or general questions regarding gourmet and medicinal mushroom cultivation.
This item is made of rye berries and rye grain, mason jars, rtv silicone, plastic leak proof wide mouth lid, gypsum, water.