Advanced Shroom Cultivation Kit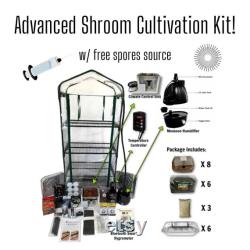 Massive 17.7 cubic feet of interior growing space. 29 x 20 x 63.5 (l x w x h). Polyethylene shell with easy zip and roll up access. 4 shelves- easy to setup steel alloy tubular frame. Custom built convection climate control system.
200w light-free infrared heat lamp. New high density fog humidifier. 24 hour programmable timer for humidifier system. 24 hour programmable timer for lighting system. 900 lumen 360 degree 360 degree led grow light.
12' light cord with outlet adapter. 1000 lumen 110v led dual spectrum spot grow light. Socket light adapter for spot light. Detailed setup instructions with step by step photos.
Instant access to our library of growing guides for jars/spawn. Bags/bulk growing & much more. Package includes the following as well. 8 premium 5-grain spawn bags or 12 30oz 5grain jars ($100.00).
6 select bulk casing mix -5 pounds ($108.00). 3 gallons of vermiculite ($10.00). 6 aluminum casing trays ($15.00).