Aeroponic Air Atomizing Nozzle Vortex Type 2pcs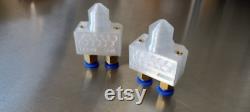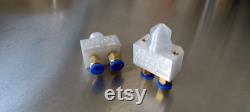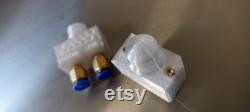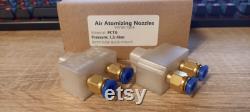 Air atomizing nozzles for aeroponics and humidifing mushrooms growing chambers. Working air pressure: 1,5-4 bar. Water/nutrient solution pressure: 0,2-1bar.
Nozzles siphon up to 1m of tube lenght. 3d printed from pctg (max 76c) or cpe ht (max 110c) material food safe without bpa etc. Nozzles fitted with 6mm tube (pneumatic pu tubes) quick coupler. From front side of nozzle are 2x m3 inserts for mounting to container. Nozzles comes in set of 2 (two) units.
Due to internal construction of nozzles stream is in type of vortex stream that make better coverage in aeroponic root zone chamber and better humidifing in mushrooms grow chambers. This item is made of pctg, cpe ht and brass.