Agrobrite T5 96W 2' 4-Tube Fixture with Lamps 6400 K with 8000 Lumens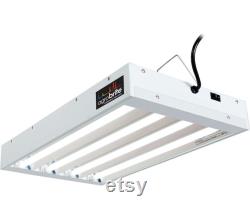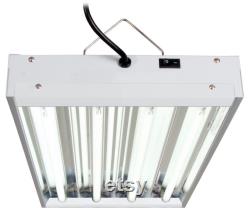 Agrobrite t5 96w 2' 4-tube fixture with lamps. Hydrofarm's newest t5 system delivers performance, flexibility, and high lumen output in any growing environment.
These systems allow you to choose multiple hanging configurations to meet your garden's design. They combine premium grade specular aluminum with energy-efficient/high-output t5 tubes and put out double the light energy of normal fluorescent systems. 22.6"l x 12.8"w x 2.8h. Lumen output rated up to 8000. Hangs 3 waysoverhead, vertical or horizontal. 8' grounded 120 volt power cord. Includes 4 fluorescent 6400k t5 tubes.