All In One Grow Kit 16.9qt Mini Monotub with 8 qt Humdifier, 3lb Grow Bag, 6500K Grow Light, 24 hr timer, fan and Hygrometer Included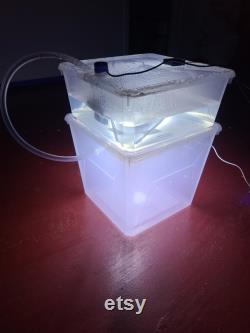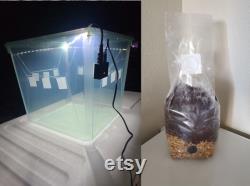 Keep relative humidity between 80-90% for best results. In addition, i'll give you a free agar and liquid culture, with the 4 pack. All products in my store are guaranteed, or you get replacements and free extras.
This is an all in one grow kit for mushroom cultivation. This includes a sterilized 3lb all in one grow bag with whole oats and coco coir substrate with an inoculation port. Video tutorial for all in one grow bag. Video tutorial for mini monotub. There is also a motion sensor 6500k led light that is attached to the lid, to ensure your mushrooms get the light that they need.
It is recommended to emulate the natural light cycle of the sun e. 12 hours of light and 12 hours of dark. This will work for virtually all varieties of gourmet mushrooms or dung loving types as well.
If you have a gourmet mushroom strain, you can use this one or my wood lovers bag for potentially larger yields. One only needs to inoculate the bag. Depending on the concentration of the syringe, anywhere from 1-5cc' per bag can be used. If you don't inoculate right away, you can put it in the fridge while you wait for your syringes to arrive. When the oats are about 15-20 percent colonized (white), gently mix the bag with your hands to accelerate the colonization process.
Once the oats have been mostly or completely colonized, one just needs to mix the mycelium in with the coco coir. Once the bag is colonized, or one sees pins of mushrooms starting, one can open the bag and take out the mycelium block (don't crumble or break up the contents) and place it in the center of the plastic tub. Spray after the first flush of mushrooms (or if dryness occurs).
This is a set and forget kind of setup. The timer is set for a 15 minutes on and off cycle. You may adjust this depending on your humidity measurements of maintaining between 80-90% relative humidity.
When i send these bags out i know that many people are using spores and that can be a contributing factor to contamination (even if one is using a still air box too). Spores and bacteria are invisible to the naked eye and contamination can sometimes happen. Please know that this particular hobby has it's margin of error. Please don't hesitate to contact me, as i've grown many mushrooms doing it this way.
If looking to grow bulk, be sure to message me and i can help you with that as well. This item is made of monotub and all in one grow bag, coco coir, gypsum, whole oats.