ALL SPECIES BUNDLE-Mushroom Premium Liquid Cultures-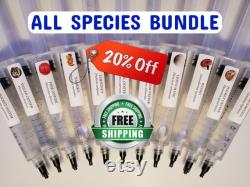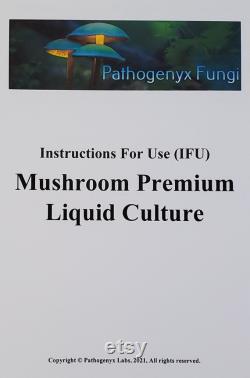 One of each of our current species. Considering starting your own mushroom or liquid culture business. With this offer you will receive one syringe of each of our current species containing 10-12ml of fresh, live, and healthy mycelium thriving in our proprietary formula with the perfect balance of sugars and nutrients that are carefully blended in a process that results in a pure, crystal clear, highly nutritious sterile solution with no sediment, debris, cloudiness or other contaminants.
Our cultures are derived from high quality mother cultures and wild tissue samples that we have further developed in the lab to isolate healthy, fast colonizing and high yielding phenotypes to bring the small grower or hobbyist high performing gourmet and medicinal mushroom strains without paying outrageous prices. Our liquid cultures are never more than 2 generations from the mother culture and are regularly tested on agar to ensure they are healthy and viable. We continually refresh our stock to ensure you receive the best cultures and genetics available. All work is done in a professional microbiology lab by staff trained in aseptic technique and standard laboratory procedures using only the best equipment and instruments. Price will change as our available stock fluctuates.
20% discount is already applied to the listing price. One liquid culture luer-lock syringe of each available species. One sterile luer-lock needle per syringe.
Our nutrient-rich formulas produce strong, dense, and fast-growing mycelium that can restrict some needles. We recommend using 18g or larger hypodermic needles when working with our cultures. This item is made of dextrose and malt extract, protein hydrolysates, mycelium, reverse osmosis water, needle and syringe.