AquaSprouts Fountain Hydroponic, Aquaponic, Water Garden (6 Gallons)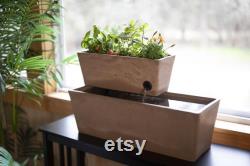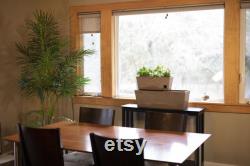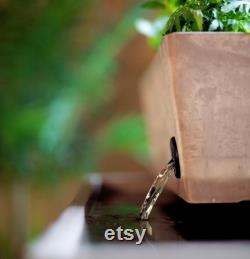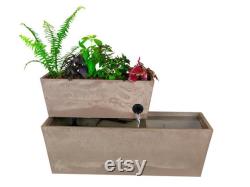 Add a touch of beauty and a splash of life to any room with the aquasprouts fountain water feature, planter, and eye-catching decor, the fountain can be used as an aquaponic or hydroponic system, or a simple water garden. Create a serene office space or add a splash of color to your patio - with this versatile kit, it's up to you. Durable, weatherproof and stone-like grow bed and fountain reservoir. Easily assembled with a classic design. Includes a submersible 160 gallon per hour pump for optimal water flow. Rated for indoor & outdoor use. Control the flow rate of the fountain and water level in your planter with customizable plumbing fittings. Expanded clay grow media replaces soil from traditional gardening and serves as the support for your plants. (grow media does not degrade). Overall 25.5 x 9 x 15 h. Reservoir 25.5 x 9 x 9.
Taupe with natural stone-like color variations. 160 gallon per hour submersible pump (9.5 watts/120v).