Automated Monotub Mushroom Grow Chamber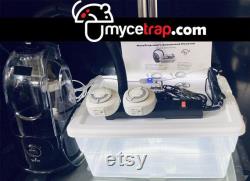 Mycetrapcultivation's 16x11 automated monotub makes growing simple. This chamber includes a high volume projection fogging machine, to ensure ideal hydration that spreads evenly creating the perfect, high humidity micro-climate for your substrate and/or cakes. To set it and forget it, this chamber is fitted with an easy to use cycle timer that will automatically activate the connected devices. The detachable polyester fiberfill port allow you to simply add and replace your polyfill filter, without making a mess or exposing your substrate to fibers.
The multi-outlet power bar provides plenty of room for added features and is positioned sleekly against the exterior of the chamber. This design is perfect for novice and advanced growers.