Be your own Shaman ALL IN ONE Ultra auto-grow substrate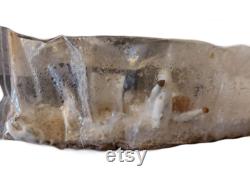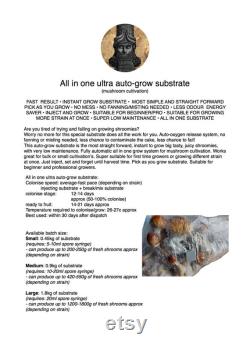 Be your own shamanall in one ultra auto-grow substrate. Auto-oxygen release no fanning and misting needed. Fast result instant grow substrate most simple and straight forward pick as you grow no mess no fanning/misting needed less odour energy saver inject and grow suitable for beginner/pro suitable for growing more strain at once super low maintenance all in one substrate. Are you tired of trying and failing on growing shroomies.
Worry no more for this special substrate does all the work for you. Auto-oxygen release system, no fanning or misting needed, less chance to contaminate the cake, less chance to fail. This auto-grow substrate is the most straight forward, instant to grow big tasty, juicy shroomies, with very low maintenance. Fully automatic all in one grow system for mushroom cultivation.
Works great for bulk or small cultivation's. Super suitable for first time growers or growing different strain at once. Just inject, set and forget until harvest time.
Pick as you grow substrate. Suitable for beginner and professional growers. Small: 0.45kg of substrate.
Can produce up to 200-250g of fresh shrooms approx. Medium: 0.9kg of substrate. Can produce up to 420-550g of fresh shrooms approx. Large: 1.8kg of substrate. Can produce up to 1200-1800g of fresh shrooms approx(depending on strain).
All in one ultra auto-grow substrate. Colonise speed: average-fast pace (depending on strain).
Injecting substrate + break/mix substrate. Colonise stage:12-14 days approx (50-100% colonise).
Ready to fruit:14-21 days approx. Temperature required to colonise/grow: 26-27c approx. Best used: within 30 days after dispatch. For international order please check with you customs, before ordering.