BECC-B2 Hydroponic Environmental Controller CO2 ppm control Grow Aquaponics Terrium Mushroom Greenhouse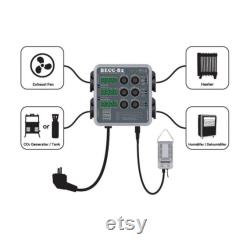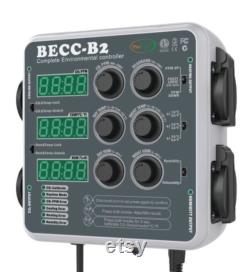 Australian plug no adaptor needed. The pro-leaf multi-function environmental controller, .
Becc-b2, offers full control of the indoor garden environment, with four 240-volt receptacles for. This advanced unit precisely monitors and manages co2 in a range of 400-2000 parts per million with an adjustable deadband. Featuring fuzzy-logic technology to provide even greater control in compressed co2 setups. The becc-b2 regulates temperature in a control range of 5 to 50 degrees centigrade, and relative humidity in a range of 5 to 95 percent, both with adjustable deadbands.
Photocell control allows for separate day and night settings of temperature and humidity. The becc-b2 includes a remote sensor on a. The becc-b2 measures co2 (constantly) it opens a valve on your pressurized co2 tank to release co2 into your greenhouse or tent and keeps it at your chosen level. (requires regulator with plant coil to operate) available in my shop. 202 x 191 x 85 mm.