Commercial Hydroponic Vertical Tower Growing System (for 45 plants, choice of 2 colours and optional lights)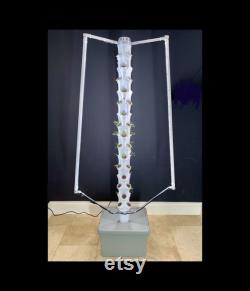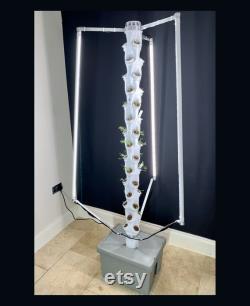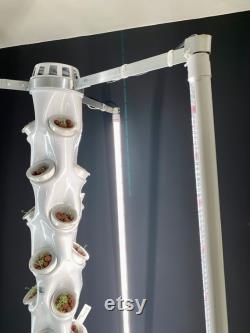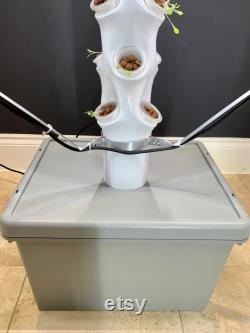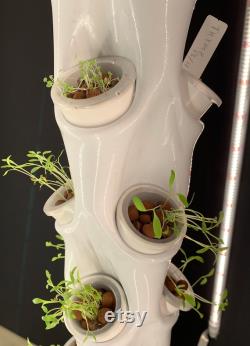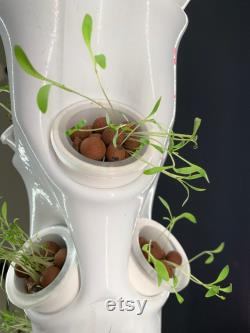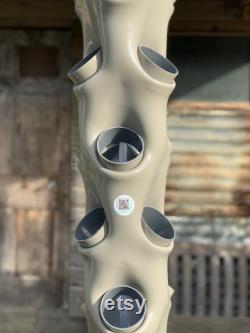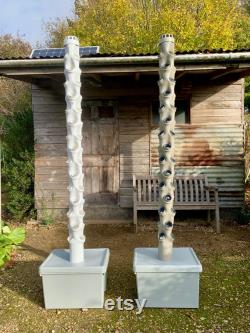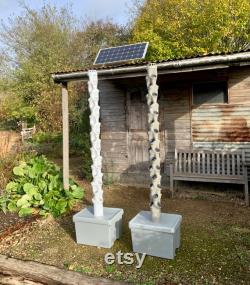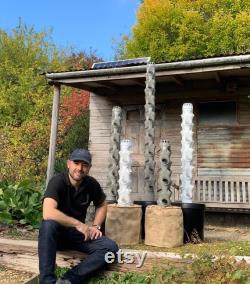 Complete hydroponic system which has been handcrafted rather than 3d printed, for a more organic appearance and smoother water flow. This is a handmade hydroponic drip/nutrient film technique hybrid system that uses no soil, only water with a small amount of nutrients added.
The system has been created as a more affordable (and elegant) way in to commercial scale hydroponics and has already been bought from us in quantity by restaurants for the purpose of supplying their kitchens, as well as large, multinational companies for edible displays in their headquarters buildings. This tower can be placed in commercial gardens, roof terraces, corporate gardens, greenhouses, or indoor semi-public space. The very strong 42l reservoir provides exceptional stability for use both indoors and outdoors without worry. Groups of towers can be used together to create a truly high impact and edible display.
The towers are available with optional commercial grade led horticultural full-spectrum lights, made by kroptek ltd. These lights are used by the royal horticultural society in their research facilities and also by many large food producers. The led lights set includes bespoke aluminium brackets for easy mounting.
The tower can be used to grow tomatoes, strawberries, lettuce, rocket, peppers, raspberries and stevia, and many others all in a single tower, taking up less than 0.5m floor space this compact size, gives great flexibility of positioning, even indoors, for all-year-round growing. Each hydroponic tower system holds 45 plants and comes with. Water pump with power supply and water filter and distribution system (uses 19 watts). 42l reservoir made from thick and tough, high-grade recycled polypropylene, free of phthalates and bpa. Net cups & 900g of lightweight expanded clay aggregate (leca) pebbles to support plants.
200ml of 100% natural and organic nutrients (2 months supply). Tower constructed using only uv stabilised materials with no phthalates or bpa. Dimensions 200 x 36 x 45cm. Optional 3 x 18w led lights made by british company kroptek, ip56 rated housings for use in covered environments only. Get up and running easily in hydroponics, all that is needed is one tower system and some plants.
You may wish to add a mechanical timer plug. Using these timers we run our towers 30 minutes per hour, only during daylight hours, to give plants resting time and give roots greater access to oxygen.
The kit includes a power supply, which can be used with a 12v extension lead (available through amazon) giving complete flexibility of location. Full instructions for growing in the towers and also raising your own seeds are available at the vhhydro. Expertise is not required to get great results. Please get in touch to discuss your commercial needs or if larger quantities are required. Hydroponic systems use a pump to re-circulate water, nutrients and oxygen over the bare roots of each plant.
Growing crops this way uses only 5% of the water, takes up 1/10th of the space, and grow in half the time with usually double the yield.