Commercial Production 8 Shelf, 16 Tray FULLY AUTOMATED Mushroom Greenhouse. Pumps out 5-8lbs of dry Mushrooms a Month Read Description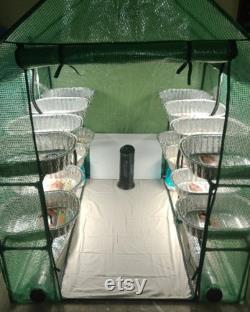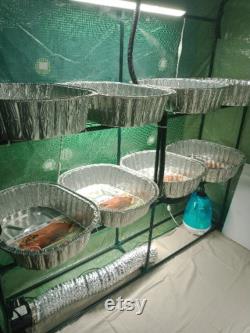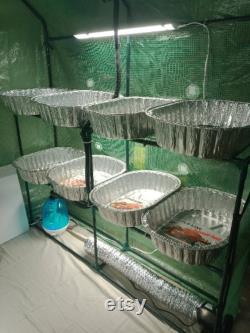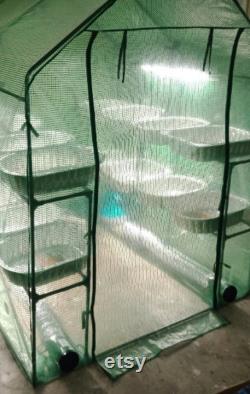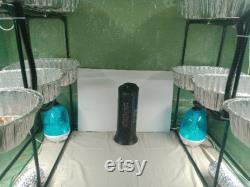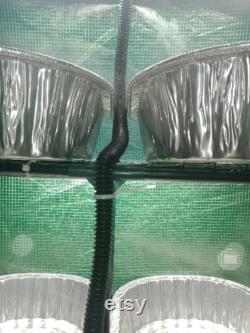 Our fully automated system mists, fans, and lights your mushrooms on timed cycles while taking care of ge/fae, and substrate surface layer evaporation daily so you don't have to worry about a thing rh/temperature are monitored with the hygrometer/thermometer, and you don't have to do much but wait for your mushrooms to finish growing then harvest them. Colonizing bags can be stored on the shelves until fruiting time then broken up/mixed up with your substrate in your trays, and given a couple weeks to colonize before you flip a switch and wait to harvest. With an automated system designed by an engineer, and 16 year veteran in the mushroom growing game.
Our martha greehouse features the following. 16 12x18x4 growing trays with liners for easy cleanup, big yields, and no side pinning. 2 3 liter misters set on timers that kick on 6x a day to keep your rh at a perfect 95-98% while using almost no electric.
6 5000k led lights set on timers that kick on 12/12 daily using almost no electric. 1 5 50 cfm exhaust fan and hose ensuring co2 is pushed out of the filter discs, and fresh o2 is brought in, keeping growing conditions perfect at all times. 1 6 outlet power strip, hygrometer/thermometer, zipties, and a burlap 5 x 5' floor cover for clean, organized, and mess free growing.
Whenever needed floor cover can be pulled out and cleaned off then easily put back down keeping particulates/contaminates covered up, and not floating around in your greenhouse. Step by step grow instructions so you get it right the first time, and make sure everything is set up and done correctly.
We might be biased, but we honestly feel that we have yet to find an automated system that compares to ours.