Complete Grow Kit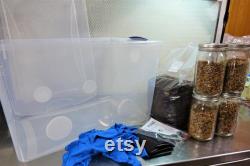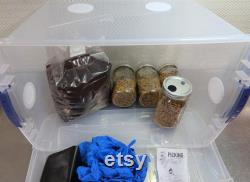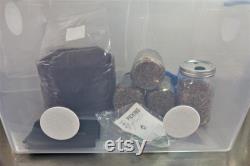 Introducing the complete all-in-1 grow kit this kit comes with all the staples you'll need to grow some mushrooms from inoculation till harvest. Included in the kit is. 4 jars with filter patch and self- healing injection port - each jar has a myco-quart of hydrated and sterilized grain, ready for inoculation.
6 pounds of pasteurized and hydrated organic coco coir. 1 liquid culture kit which includes 12 cc's of your chosen species, an 18 gauge 1.5 inch sterile needle, and an alcohol swab pad. The hydration that the substrate provides is all you should need to take you all the way until your first flush. If you are in a dryer climate, you may need to begin misting once you reach full colonization.
Please note that the video we provide shows how to set up your new mono tub only. Information on how to use all the tools in the kit will depend on you doing some of your own homework. We try to provide a simple kit that will help any beginning mycologist start the myco-journey, but you will have to do some of your own research to know how to use each element of the kit successfully.
We will reach out upon receipt of your order to let you pick your species. This item is made of plastic 66 quart tote and sterilized filter, foam, 6 mil liner, gloves, micropore tape, jars.