Custom-Built Automated Mushroom Dub Tub Grow Kit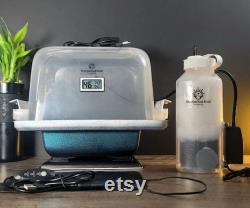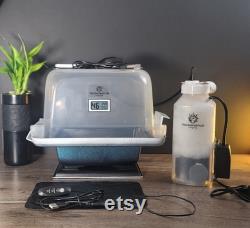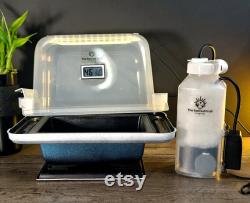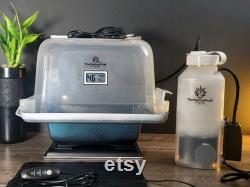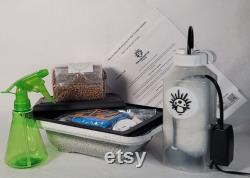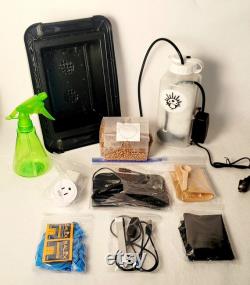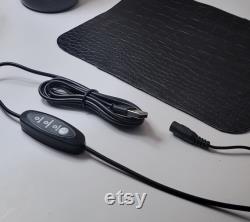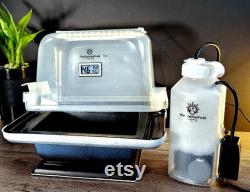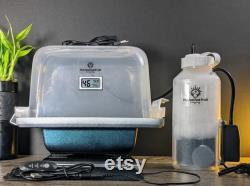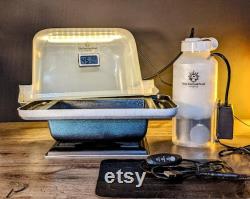 Each kit is individually made and finished with a custom paint job. Introducing the custom built mushroom dub tub grow kit - the perfect solution for mushroom enthusiasts who want to grow their own mushrooms with ease my one-of-a-kind hand-crafted kit comes with a stylish textured marble accent that adds a unique touch to any room. But the real beauty of this kit lies in its fully automated micro-environment that creates the ideal conditions for a mushroom fruiting chamber. With my custom-built humidifier, you'll never have to worry about drilling holes or daily misting and fanning again.
My humidifier provides a constant slow leak of fresh humid air, maintaining the perfect 90% range of humidity day and night. Plus, it's silent and perfect for any size space (use distilled water only). My kit is easy to use and comes ready to use out of the box. It's also equipped with a wifi smart plug and usb adapter, allowing you to connect your grow light or humidifier for optimal results. And with the integrated digital temperature and humidity sensor, you can rest easy knowing your mushrooms are getting the perfect environment to thrive.
Not only is the kit hands-free, but it also includes an adjustable heat mat and a dual-purpose base tray for substrate incubation. Plus, it's ideal for a 3-3.5lbs substrate/spawn ratio, making it the perfect size for mushroom growers of all levels.
So why settle for a boring, complicated grow kit when you can have a stylish and efficient one like this order now and start growing your own mushrooms with ease please note that the kit does not include substrate or liquid culture. Ready to use out-of-box setup, all you need to do is add around 2lb of your favorite substrate to the included rye grain grow bag once it is fully colonized. Kit includes the following items. Custom-built automated filtered fae humidifier bottle, air pump.
1lb rye grain grow bag with injection port (does not include substrate or liquid culture). Integrated digital humidity and temperature sensor.
Dub tub tray: dual purpose base tray / substrate cover. Usb mushroom grow light on/off switch. Wifi smart plug with usb adapter. Mini 7.5w adjustable usb heat mat (up to 10 degrees warmer than environment). Fae slow leak humidifier can be controlled with the included wifi smart plug and set on a daily schedule.
(2 hours twice a day is usually sufficient in most cases). Anti-microbial protective rubberized coating inner tub. The included square tray has dual purposes. 1: cover substrate during colonization. 2: heat dissipation between tub and heat mat to provide even heat distribution and preventing over-heating substrate. Soft warm lighting ideal for mushroom growing. Dubtub handle edges lined with clear 3m protective tape to protect paint and mitigate risk of chipping from regular use. Completely silent during full operation. Ready to use out of box (no difficult setups unlike many others). Looks great in any room and perfect for counter top growing (or even on a bedside night stand for the midnight munchies :) jk. Fae slow leak humidifier can support up to two tubs simultaneously (modified by adding addition port hole and hose on lid). Slow leak humidifier takes the guessing out of the equation, and will never oversaturate the spawn (unlike standard humidifiers and foggers). Completely enclosed and self contained design help mitigate risk of contamination when compared to typical shotgun-style fruiting chambers. After-sale service and support (i will be here if you need me and try my best to answer any of your questions during the growing process). This item is made of fae, humidifier, automated, heat mat, grow light, dub tub, monotub, quality plastic container, customized and modern.