EAGLE PEAK 2.7m x1.6m Portable Walk-in Greenhouse Instant Pop-up Indoor Outdoor with Roll-Up Zipper Entry Doors and Side Windows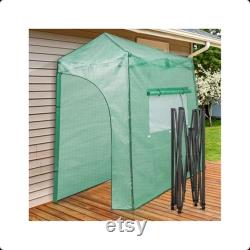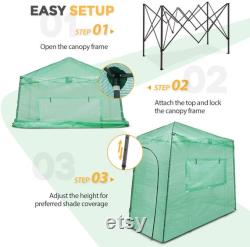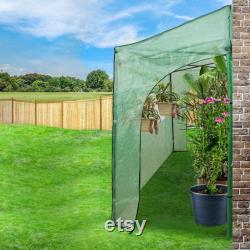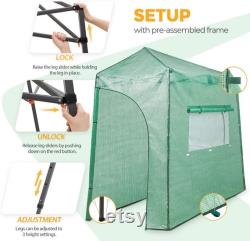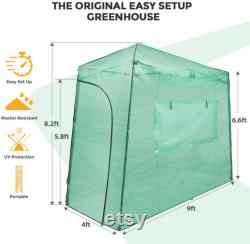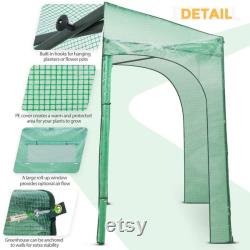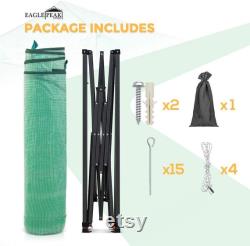 This eagle peak outdoor portable walk-in garden greenhouse canopy tent is designed for easy setup and easy use, with no piece together with. Made of high-grade, powder-coated steel, great for starting or protecting plants and flowers, it's made of water resistant material. Easy setup: innovative easy setup technology allows you to set up this greenhouse in seconds.
Most collapsible greenhouses on the market have multi-piece frames, but eagle peak pop-up greenhouse is ready straight out of the box. When it is time to store or transport your greenhouse, it glides closed just as easily as it goes up. No tools necessary: eagle peak pop-up greenhouse is ready for use right out of the box with absolutely no assembly or tools required. Just slide open the frame and attach the greenhouse pe fabric. Perfect for use indoors and outdoors, being able to take down and transport this greenhouse as the seasons change makes it easy to extend the growing period of your plants and to see your garden thrive year-round. Space to work: the walk-in style of this spacious greenhouse provides you freedom of movement. With l 9 ft x w 4 ft xh 8.2 ft dimensions, there is room to spare for shelving, for you to work, and for your plants to grow in all directions. The greenhouse has 3-height adjustable legs for extra headroom. This greenhouse features mesh-reinforced fabric walls, two zippered walls for easy access, and a side window. Stable and sturdy: you can be confident that your plants are safe and unharmed by the incredibly sturdy and stable steel-frame greenhouse. With a steel-ceiling roof, this greenhouse is strong and comes with 2pcs expansion bolts to fasten to outdoor walls. Whether they are more robust or delicate, you will be sure to create the perfect environment for all of your plants, vegetables, and fruits to flourish and thrive. This item is made of pe.