EAGLE PEAK Easy Fast Setup 8'x6' Portable Walk-in Pop-up Greenhouse Canopy, White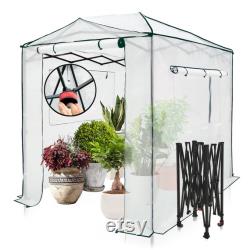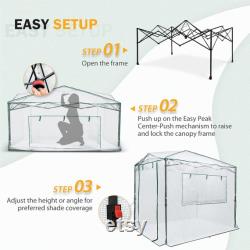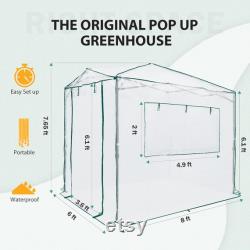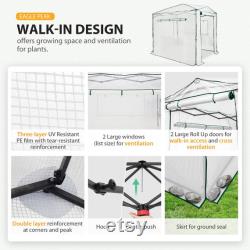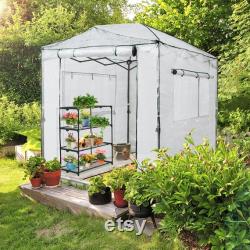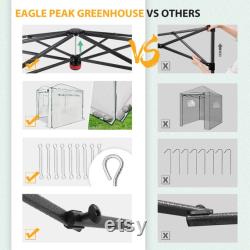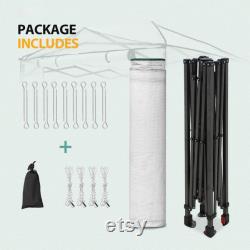 Easy setup: innovative easy setup technology allows you to set up this greenhouse with ease. Most collapsible greenhouses on the market have multi-piece frames, but eagle peak pop-up greenhouse is ready straight out of the box. When it is time to store or transport your greenhouse, it glides closed just as easily as it goes up. No tools necessary: eagle peak pop-up greenhouse is ready for use right out of the box with absolutely no assembly or tools required.
Because of our pre-assembled frame, it is more convenient than ever before to transport and store. Perfect for use indoors and outdoors, being able to transport this greenhouse as the seasons change makes it easy to extend the growing period of your plants and to see your garden thrive year-round. Space to work: enjoy freedom of movement with the spacious walk-in greenhouse. Shelving fits comfortably in 6'x8' of floor space.
You have space to work, and your plants have room to grow in all directions, thanks to the greenhouse's 3-height adjustable legs to provide extra headroom. This greenhouse features mesh-reinforced fabric walls and two zippered walls for easy access on either side. Stable and sturdy: you can be confident that your plants are safe by the incredibly sturdy and stable steel-frame greenhouse. With a steel-ceiling roof, the construction of this greenhouse is rigid and durable enough to endure most outdoor conditions with no problems.
Whether they are more robust or delicate, you will be sure to create the perfect environment for all of your plants, vegetables, and fruits to flourish and thrive. Our professional service team is always available to provide superior service to you. This eagle peak portable greenhouse uses innovative easy peak center push setup technology. The whole greenhouse is designed for easy setup and easy use, no extra tools necessary.
With 6'x8' of floor space good enough for people work and move. Steel structure provide safety and trust-able quality. This greenhouse comes ready-to-use, pre-assembled with no extra tools necessary. Big space and extra headroom. Perfect for indoor and outdoor.
Zippered walls and large windows provide multiple access points. Simply extend the steel frame, attach the greenhouse top, extend the legs and lift up the center lock.
Walk-in height: 68.50 inch. Peak height: 91.80 inch.
Package dimensions: 44.49 x 9.06 x 9.84 inch. Item weight: 35.05 lbs. Eagle peak is a premier pop-up canopy and gazebo brand that delivers innovative product with ease-of-use, combined with premium design aesthetics. We invest in our product testing and product innovation laboratory to ensure that our product meets and exceeds industry quality standards and requirements.
We are relentless in our efforts to innovate new ways to bring you safe, hassle-free, quality products. Our international & north american product development and design teams work tirelessly to improve upon the status quo and deliver better looking and better functioning product to you. This item is made of steel and polyethylene.