FFU Mushroom Mycology Flow Hood 2x4ft HEPA14 Fan Filter Unit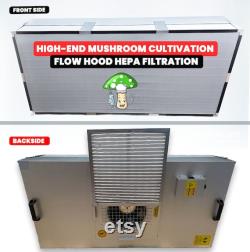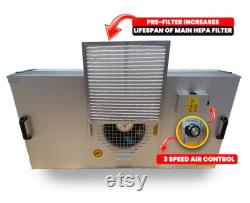 Unleash the full potential of your mycology projects with our highest grade laminar flow hood. Designed meticulously for mushroom enthusiasts, researchers, and cultivators, this flow hood is your gateway to a contamination-free environment, essential for successful mushroom cultivation and spore studies.
High-efficiency hepa filter: our top-tier hepa filter ensures 99.99% efficiency, providing a sterile workspace by filtering out airborne contaminants as small as 0.3 microns. Perfect for delicate mycological work. Optimized airflow design: experience consistent, uninterrupted laminar airflow, which is crucial for maintaining a contamination-free environment. Robust construction: built with durability in mind, our laminar flow hood boasts a sturdy, sleek design that's both functional and aesthetically pleasing.
Easy to use: designed for both beginners and experts, with simple setup. Plug and play operation ensures you can start your projects immediately.
Compact and portable: ideal for home use or small labs, our flow hood doesn't require a lot of space and can be easily relocated. Perfect for various mycology applications.
Whether you're a hobbyist growing gourmet mushrooms or a researcher conducting spore analysis, this laminar flow hood is versatile enough to meet all your mycology needs. Educational and fun: not only is this tool essential for serious mycological work, but it's also a fantastic way to educate and involve others in the fascinating world of fungi. Your laminar flow hood will be securely packaged to ensure it arrives in perfect condition.