FLOGROW LEDBAR 120W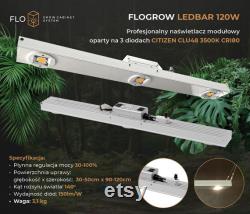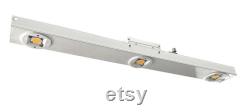 Based on 3 citizen clu48 3500k cri80 leds. Ideal led panel for indoor cultivation. With 3500k lens-free leds, the floodlight captures more light than traditional lamps.
Thanks to this, we can reduce its distance from plants. Reduced current flowing through the leds increases the life span of the did. Thanks to this solution, the lamp captures more lumens and does not heat up. Power supply: 1x meanwell xlg-100-h-ab.
Depth x width: 30-50cm x 90-120cm. Walking: passive - aluminum heat sink. With a profile of 78x35mm and a length of 800mm. (depth x width x height).