Full DIY Green House Kit, (Materials instructions) WALK-IN 2 Tier 8 Shelf Portable Lawn and Garden Greenhouse(56 W x 56 D x 76 H)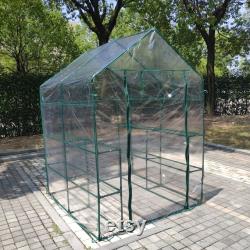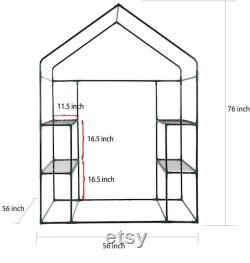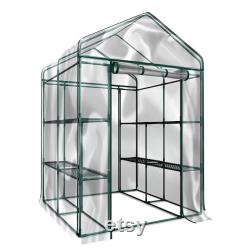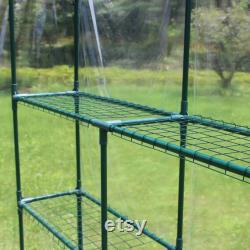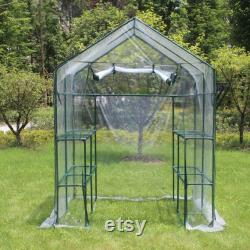 This walk-in 2 tier 8 shelf portable lawn and garden diy greenhouse kit is ideal for garden hobbyist who would like to enjoy flowers and vegetables year round. It can provide the perfect environment for seedlings to fully mature plants year round versatile and crafted with high-quality pvc material, no matter the weather your gardens protected. (roll-up entrance) designed with a zippered roll-up door and walk-in style for easy access.
Ideal for extending growing season. The walk-in design offers growing space and ventilation for large size plants.
And when sealed provides great protection against any pesky critters that might be crop hungry. (universal shelving) the 8 sturdy wired shelves- 4 on each side provide plenty of room for trays; pots; or planter's blooming flowers; sprouting plants; and fresh vegetables.
It's a convenient option for any gardener. (high-quality pvc cover)strong durable reinforced green pvc cover manufactured from heavy duty material; connects with ties for easy assembly and a stronger; long lasting life span. Paired with a double-thread sewing cover and designed with a zippered roll-up door for walk-in style easy access.
Ideal for just about any season. (strong frame)built with heavy-duty powder-coated steel. Include 4 ropes and 4 stakes to secure the greenhouse and prevent it from being blown down by the wind. (indoor & outdoor) this versatile greenhouse is ideal for both indoor and outdoor use; keep it on your backyard patio; deck; or in the basement and even the garage the clear pe cover helps protect seedlings from frost or pests. (easy installation & storage) with no tools required; our greenhouse is easy to assemble all the connectors are marked with letters that correspond to the letters in the assembly instructions that are provided.
Simply follow the included instructions and connect the rods. Rope and anchors are included for stability; and each shelf comes with zip ties to ensure they can't be tipped over. It is also easy to disassemble for moving or storing.
56"w x56"dx76 h(143x143x195cm). 40.16"lx11.6"wx5.12h(102x30x13cm). This item is made of pvc cover, powdered steel and tie downs.