Fully Automated Monotub Max Yield Bin Fruiting Chamber Mists, Fans, and Lights Itself Daily, Free Spawn and Substrate with Purchase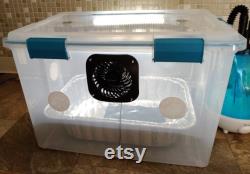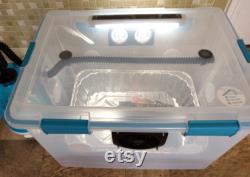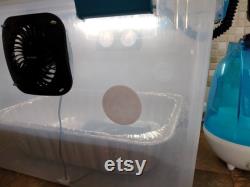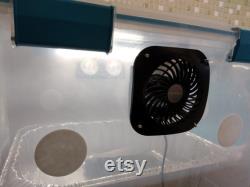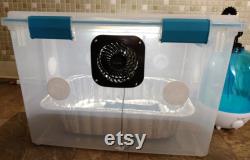 Our fully automated monotub fruiting chamber comes with easy to use instructions, set it and forget it setup. But this beautiful, automated fruiting chamber is sure to take its place soon compact, clean, solid build, extra protection from contamination. And our tubs produce big yields. We also designed our fruiting chambers like max yield bins.
Unlike other automated monotub setups you can pull your tray in and out without making a mess in the bottom of the tub, and the surface area of the removable tray is equivalent to a 66 qrt monotub. A little higher than standard 56qrt monotubs. Hygrometer/thermometer, 5500k led lighting, plastic housed durable 3m vent filters. Nothing cheap on our fruiting chambers. Everything was thought of, and our easy to use, compact design has proven itself to maximize yields, while minimizing space, cleanup, and difficulty of use nothing has been left out here.
These are so cool looking setup in your bedroom or spare room also let the fruiting chamber do the work, and see how easy our fully automated monotubs are to use.