Garden Storage Shed Garden Tool Storage Cabinet Lockable Arrow Wooden Storage Sheds Organizer for Home, Yard, Outdoor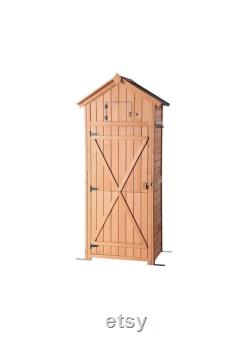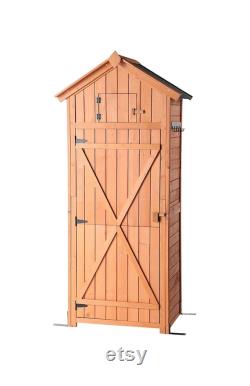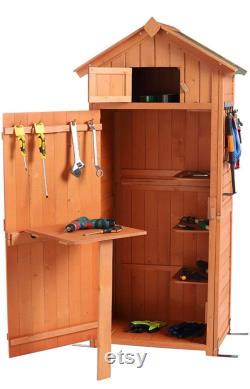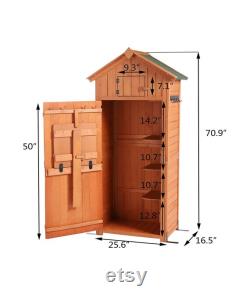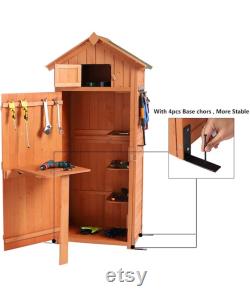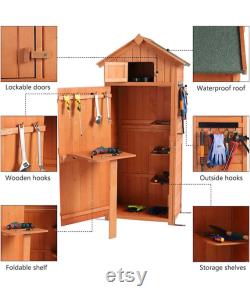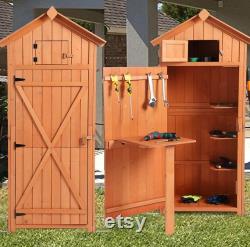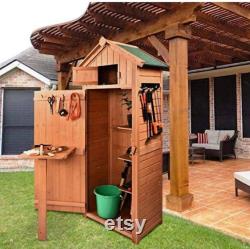 Color 72inch wooden storage shed. Item dimensions lxwxh 25.6 x 16.5 x 70.9 inches. Perfect storage shed: l 25.6w 16.5h 70.9(including the roof side). Allows you to store more tools and garden equipment. Divided into 4 shelves inside for placing tools orderly and left space can store larger tools, such as bucket, shovel and etc. Large storage space: designed in two parts, top layer use for storing some small widget, lower for larger tools. Set with a special folding shelf on the door in addition, you can use it as a small table or a small shelf when in need, fold it when no need. Waterproof and safe: equipped with waterproof coating to protect the shed from winds, rains and gale. Made of high grade fire wood and high quality metal accessories, durable and stable enough for outdoor use. With safe lockable doors to ensure security.
Additional hanging hooks: the hook on the outside of the storage shed can be used to hang the gadgets. There is also addition shelf and hooks on the door for storing tools and accessories. More convenient and easy to take the tools out every-time you use. Provide bset service: came with the installation instruction and all tools in the package, can easily installed.
Arrow shape makes the shed more attractive, this products are not free return. Overall size: l25.6w16.5h70.9.
Window door size: (l 9.3 x h 7.1). Bottom floor: (l25.6 x w16.5). Baijiawei wooden tool shed is perfect for storing all kinds of tools and accessories.
Special design for two part. Upper for small widget, lower for larger widget. 4 shelves in the shed, and equipped with the addition shelf on the door. The hooks outside of the shed can hang the commonly tools offers more convenient for use.
Product dimensions 25.6 x 16.5 x 70.9 inches. This item is made of wood.