Gardening Greenhouse with Window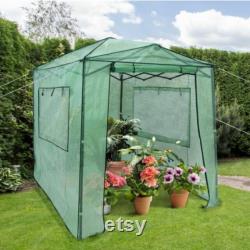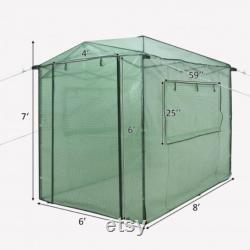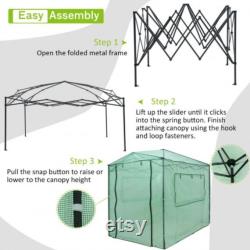 Color: greenmaterial: pe + steeldimension: 6' x 8' x 7' (l x w x h)window dimension: 59 x 25 (l x w)window number: 2net weight: 34lbspackage includes:1 x pe cover1 x folding stand10 x pegs4 x anchors4 x ropes1 x instruction. Stable in severe weather: equipped with extra tools for added stability, heavy rain or heavy storms during all seasons to ensure protection. The stakes may be used to secure the adjustable wind rope to the ground while the corkscrew pegs are used to fix the metal columns on the ground. Best home for plants: occupying a large area of 6' x 8' x 7' this greenhouse is the perfect choice for your large number of plants.
Feel free to set them up within a scientific distance for healthier growth. Durable pe and sturdy metal: made of environmentally friendly pe material, the greenhouse is not only of good weather resistance to keep the temperature perfect for the plant, it is also long-lasting. All for your convenience: each corner of the greenhouse is designed with hook and loop fasteners, making it easier and more convenient. Observation windows on both sides make it easier to take care of plants in time.
Double roll-up doors make planting more convenient. Pop-up for easy assembly and carrying: better than most collapsible multi-piece greenhouses, the pop-up greenhouse is ready to move up or glide easily. The supporting frame of the greenhouse is easy to open with a single-click button, easy to carry, and easy to store.
This greenhouse is the best gift for your old parents or plant lovers. This greenhouse is large enough to hold your multiple plants in various diversity, along with wide observation windows for caring in real-time. As both doors can be rolled up, it is convenient to move in and out of your plants easily. The folding and portable metal frame makes it possible for you to do your plantation anywhere you like why not give your plant home in all seasons.
If you are looking for this product, don't hesitate to place an order. Designed with two large windows for easy and real-time observation. Two roll-up doors convenient for carrying and setting up plants easily. Hook and loop fasteners in any corner and on the window for more convenience. The large floor area of 6' x 8' for easy accommodation of various plants. Length adjustable wind ropes with stakes for better stability. Small circles on the bottom margin for stakes to make a sure better connection.
Corkscrew pegs easy to secure the metal frame into the ground for safety. Portable metal frame easy to fold into a compact size for convenient storage. Premium pe and iron material for stable and durable use.