Gray 28 Plant Hydroponic Tower Reservoir Pump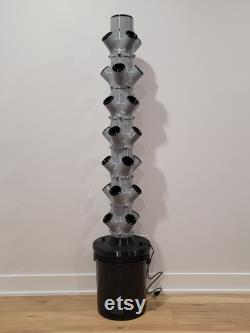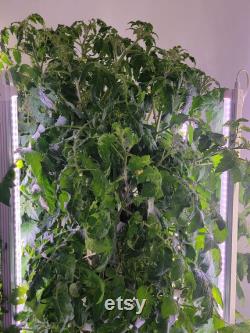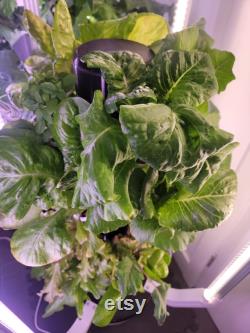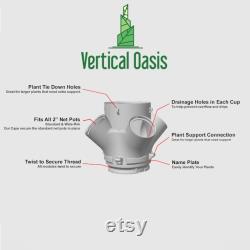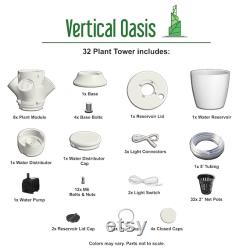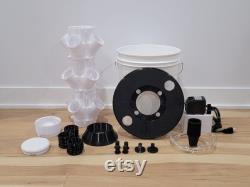 Grow your own food all year long, indoors & out. This is a completely new design, with features you won't see anywhere else. Gray with black accents - 28 plant modular hydroponic/ aeroponic tower with optional grow lights. This tower comes with just about everything you need to get started growing delicious herbs, vegetables, and fruit all year long, right at home. The vertical oasis hydroponic tower can be used indoors and outdoors.
Great for balconies, patios, kitchens, classrooms, restaurants, or anywhere else you want to grow food year-round. Our towers fit all 2 net pots (wide rim and normal). We know that sometimes it's impossible to get roots out of a net pot without breaking it. Integrated plant hooks make it easy to tie off your plants as they grow.
Integrated nameplate below each cup makes it easy to label and quickly identify your plants. Each cup module is 6.25 inches (15.875 cm) - over an inch taller than other 3d-printed towers. 2 holes in the reservoir lid with caps. One for the water pump power cord, the other to add water/nutrients/check ph etc. Easily use the supplied reflectors for your grow lights with this system.
Each module twists to lock. 3d printed using fully recyclable, bpa-free, petg plastic filament. The same plastic commonly used for food containers and bottles for liquid beverages.
Harvest up to 3x faster. Grow your own organic food. Can pay for itself in under 1 year. Grow all types of leafy greens, herbs & fruit, such as peppers, cherry tomatoes, lettuce, strawberries, kohlrabi, cucumbers, thyme, and so much more. This hydroponic tower system is easy to upgrade with additional cup modules.
We offer modules with 3, 4, or 5 plant cups per module. Setup is simple and you only need about 15 minutes weekly for maintenance. 1x black 5-gallon bucket lid.
4x cup hole closed caps. 28x cup hole open caps. 1x 5 1/2 clear tubing. 4x light arms and 4x 4-foot full spectrum led grow lights (168 watts - 1000 watts equivalent). This item is made of petg.