Greenhouse Screen Door 2 Windows 3 Tiers 6 Shelves 56 W x 29 D x 77 H Portable Plant Garden Green House (Clear)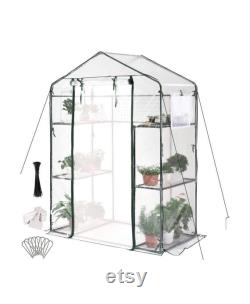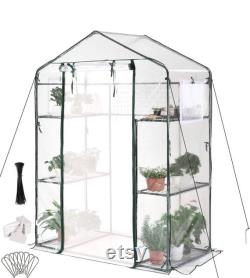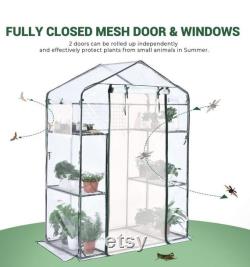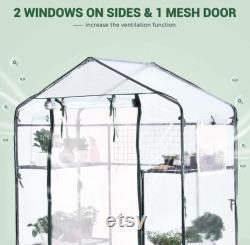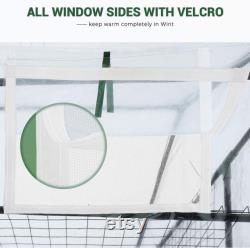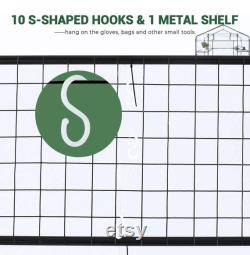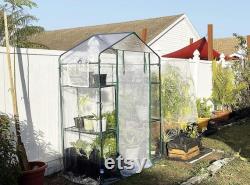 Greenhouse screen door 2 windows 3 tiers 6 shelves 56 w x 29 d x 77 h walk in outdoor portable plant garden green house 50 t-type plant tags 8 stakes 4 ropes include (clear). Material alloy steel, polyvinyl chloride. Top material type polyvinyl chloride. One screen door and one pvc door 2 doors are included. One screen door can keep small animals out and protect the plant, and one pvc door keeps warm completely in winter.
Two doors can rolled up independently, convenient to use. Ventilated on all sides two windows on the sides and one screen door, all windows and the door have the mesh to effectively protect the plants and ventilate at the same time, especially on hot days.
Multifunctional vertical shelf on the back one vertical shelf on the back of the greenhouse and 10 s-shaped hooks give you more convenience to hang the garden equipment, like gloves, bags, kettle and other small tools. 50 t-type plant tags 30 zip ties include 50 t-type plant tags provided to record your plant's growth cycle, and 30 zip ties to make the shelf more tightened and avoid shaking of the frame. Also 8 stakes and 4 ropes are included to make the greenhouse more stable when used outdoor.