Grow1 Deep Water Culture (DWC) 4 Bucket with Reservoir Complete Hydroponic Kit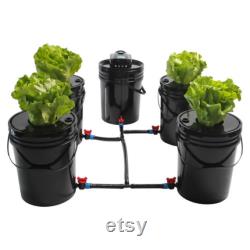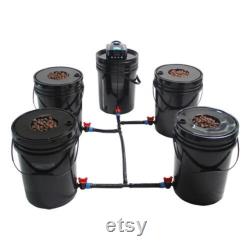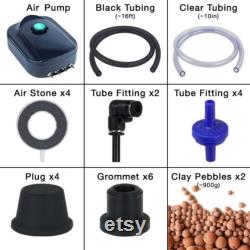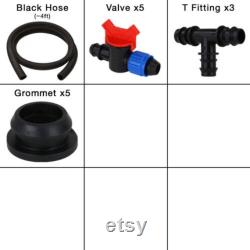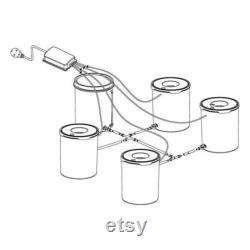 Top quality systems made by. Looking for an inexpensive and easy way to grow hydroponically the grow1 deep water culture kit is the answer.
Super easy to use, the grow1 dwc kit system allows you to get up and growing in no time, with very little effort. The grow1 dwc 4 bucket + reservoir complete kit includes everything you need for a complete hydroponic system. In a deep water culture system, the plant roots are immersed in an oxygen infused and nutrient rich water reservoir. The oxygen rich solution helps build healthy root systems faster and more efficiently than soil which results in superior plant growth and higher yields in your overall production. Deep water culture kit this easy to use hydroponics supplies kit is an inexpensive way to grow hydroponically. Create high yields with little effort. Perfectly sized for a 4x4 blueprint and great for 4x4 tents. Kit includes the deep water culture buckets kit includes everything you need to get started. 4 x 5 gallon buckets, reservoir, air pump, tubing, fittings, air stone, and clay pebbles. Fastest method of growing due to constant supply of new oxygen plus the constant availability of water and nutrients the dwc indoor hydroponic system is the fastest way to grow any type of plant. High yields the 5 gallon dwc bucket system helps you grow plants faster without the need for soil, providing targeted nutrients, and saving water. Produce high yields and increase overall productivity. Multiple uses ideal to use as a general hydroponics growing kit for greenhouses, grow rooms, and garages. Easily grow vegetables, flowers, and herbs with this easy to use kit.