Grow 24 4 Row Recirculating Deep Water Culture RDWC System DWC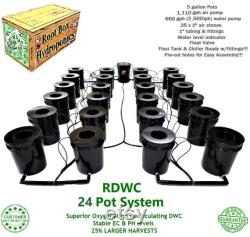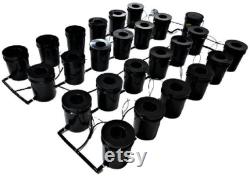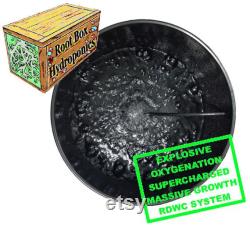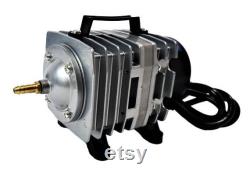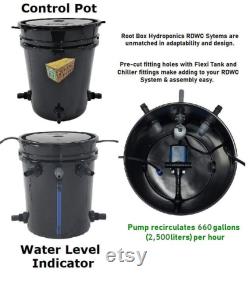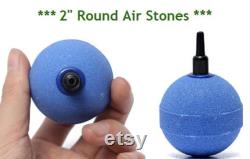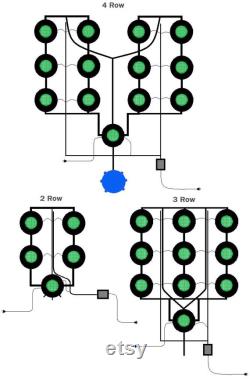 Root box hydroponics grow 24 - 4 row recirculating deep water culture system. Root box hydroponics commercial rdwc systems have the newest innovations in recirculating deep water culture technology to consistently yield amazing results all packaged into a box to provide you with the most fruitful growing experience. Root box hydroponics commercial rdwc systems feature an under water nutrient solution recirculation method.
A commercial grade inline water pump utilizes negative water pressure to cool, mix and recirculate the highly oxygenated nutrient solution through the plant's root zone, ensuring ph and ec levels are uniform throughout the entire system. The constant re-circulation supercharges the nutrients with dissolved oxygen, creating accelerated massive plant growth. A commercial grade air pump and air stones put a high concentration of oxygen in the nutrient solution. Roots in the super oxygenated nutrient solution have more efficient nutrient uptake and use less energy trying to find nutrients, increasing plant growth rate substantially.
Root box stands out from the rest. Root box hydroponics uses the newest innovations in rdwc technology with the best parts. We have many different 2, 3 and 4 row systems, accommodating many grow size spaces. Our systems have large commercial air pumps and include two air pumps on bigger systems. We also include large commercial water pumps for better recirculation with pump pre-filter screens to prevent debris and clogs from entering pump.
System includes stainless steel bulkhead hose clamps to ensure a leak free seal. Root box hydroponics high-performance commercial recirculating deep water culture system is unmatched in efficiency, layout, adaptability and ease of use.
Unique adaptability design allows you the ability to add chillers, flexi tanks and even more pots at a later date. After investing in one style of system, rest assured that you're not stuck and can build your grow space to your satisfaction.
Through the use of root box hydroponics commercial rdwc systems, beginners and advanced growers have shown jaw dropping yields. Root box hydroponics commercial grow system. Large commercial air/water pumps supercharge the nutrients with dissolved oxygen through the root zone, maximizing the nutrient uptake capacity and creating the perfect conditions for massive plant growth. Up to 90% reduced water usage over the crop term compared to conventional growing methods. The high volume of water recirculating in the system will help you have consistent ph and tds readings and even nutrient distribution throughout the entire system.
Ph and ec levels are continuously maintained with multiple plants connected to one control unit, meaning you only need to correct the ph or ec of the solution in the control unit rather than each pot. This saves you time and effort. Root box hydroponics commercial systems come with all the fittings for chillers and flexi tanks, giving you the opportunity to add them on at anytime, meanwhile being fully functional until then.
Adding to the systems adaptability provides you with an opportunity to build your system to fit your grow space and to add on more pots at a later date. Each system comes with pre-cut fitting holes, tubing sections and easy fitting airline with easy to follow instructions for quick assembly. Just add water, desired nutrient solution, place your seedlings into the lower middle section of the pot in your choice of grow media and plug into a 120v outlet. You now have year round capabilities to grow massive yields.
660gph (2,500 lph) water pump w/. (24) 5 gallon (20l) grow pots. Bulkhead stainless steel hose clamps.
Commercial air pump 1,110gph. Main air line fittings & secure ties. Easy fit air line tubing. Grow space : 7'2 wide x 11' long.