Growers Choice Master Controller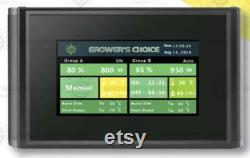 Growers choice master controller is the perfect option for commercial cultivators who need to control multiple fixtures. Our master controller can operate up to 100 fixtures in two separate grow areas indoor or greenhouse.
This easy to use controller features an lcd touch screen that allows you to adjust lighting settings to your garden's needs. The system operates on an adjustable 24-hour time cycle allowing you to customize your light cycle. There is also a sunrise and sunset mode that mimics the natural light cycle. Grower's choice has also added safety features into the controller allowing you to program "light shut off" in the event the controller senses too much humidity or heat in your garden, preventing damage to your crop. Control voltage outputs - 2 groups, a/b. Number of ballasts per output - 120 pcs max. Max cable length per group - 120 meters.