Hydroponic garden kit, 19 pieces. BPA-free air pump, air stone, mesh pots, spigot, pebbles,plugs, organic nutrients, organic seeds and more.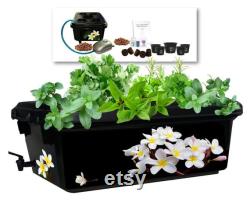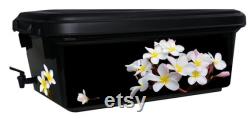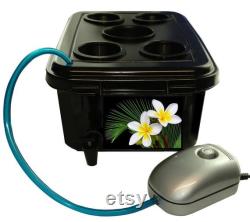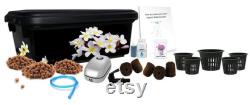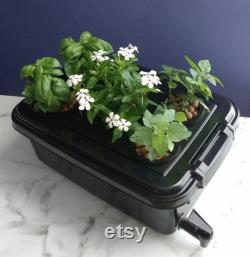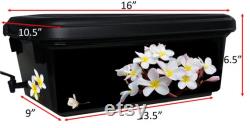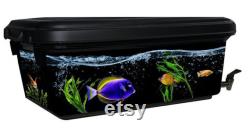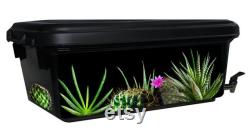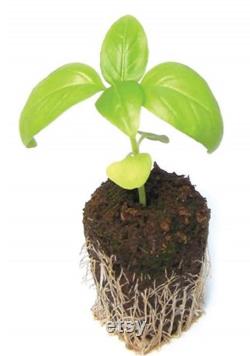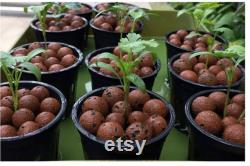 Enjoy home-grown organic produce you harvest yourself from your own hydroponic watergarden. Everything you need to start your garden is included in the watergarden kit except lighting and water. Dirt-free hydroponic gardening allows you to grow lettuce, micro greens, herbs and flowers indoors. In hydroponic gardening, plants' roots dangle in a mixture of fresh water and a liquid nutrient solution.
All of the plastic parts and mesh cups of the watergarden kit are bpa free and the nutrients and seeds are organic. Each component of the kit was carefully chosen for its high quality. A detailed step-by-step instruction booklet will teach you how to grow hydroponically, even if you have never done it before. The watergarden kit contains a 3 gallon bpa-free reservoir with a bpa free drain, a bpa free hose, an electric aerator pump, a bubbler air stone, a bottle of enough liquid nutrients for your first crop, four 3-inch mesh pots, one 4-inch mesh pot, plenty of organic clay pebbes to fill the pots, 5 starter seed plugs, and a sampling of organic seeds.
The reservoir is completely black so that no light can enter the unit and cause algae to grow. The aerator and air stone bubbler bring essential oxygen to the roots of the plants.
The decorative adhesives are laminated for water resistance. The reservoir will retain its beauty if it is not placed in direct sun. See photo above for specific dimensions.
Slight variations of the design shown above are possible because each unit is hand made. Do not place your system on furniture that could be water damaged. The reservoir must be returned in its original flawless condition, free of scratches or water marks.