Hydroponics growing system Indoor garden Digital display Large size User friendly Grow vegetables fast Fast tracked air shipping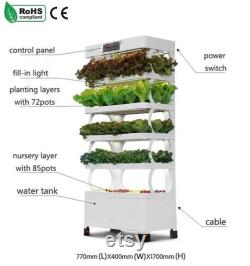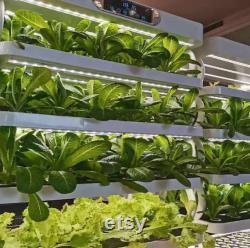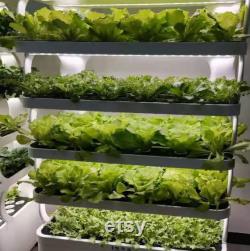 Hydroponics indoor garden grow systems are becoming a very popular choice and for a good reason. This is why we decided to carry the most advanced growing system on the market, to grow your own vegetables and plants easily and efficiently at a low cost. Unit comes with grow baskets, sponges, shade covers and a spray bottle. Below is some information about the product but feel free to contact me if you have any questions.
The light pattern and water circulation interval can be adjusted according to the indoor environment, and the different positions the machine is placed in your home. The intelligent control system will promptly alarm when the water level line in the tank falls below the minimum water level line.
Led full-spectrum fill light, 1:1 simulated sunlight, has the best light intensity and light quality for leafy vegetables. Intelligent circulation system with internationally advanced nft for the cultivation layer and breakthrough tidal irrigation for the seedling layer. The hydroponic planting system is an independent ecosystem, with 72 planting positions on the planting layer and 85 seedling raising positions on the seedling layer, with a large capacity to meet your needs for growing a variety of vegetables. Hydroponic and aeroponic systems use very little land and water compared to traditional gardening.
Growing your own food at home is a sustainable source of food while addressing food security issues in today's ever-changing world. Indoor hydroponic garden can release a lot of oxygen to increase air humidity, allowing you to enjoy natural oxygen and fresh crops at home, with the living room at home, children can experience the fun of planting, easily get close to nature.
The automatic humanized system is very suitable for beginners and advanced hydroponic growers. The vertical system uses aerial technology, which greatly increases the oxygen flow in the root zone and promotes the growth of plants. Product name: vertical hydroponic planting box. Features: luminous, not easy to deform, degradable. Application scenarios: office, hotel, home furnishing.
Control: 1 button to start.