Hydroponics Tower, Base System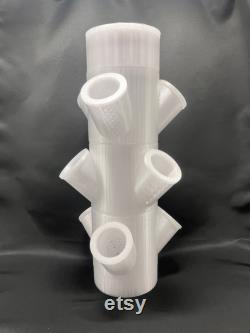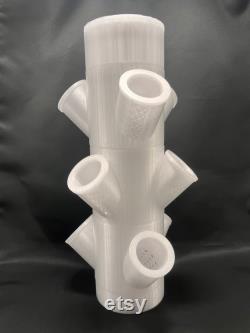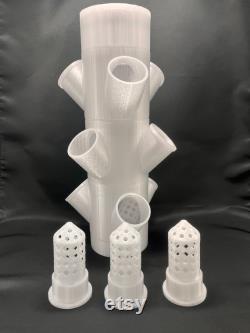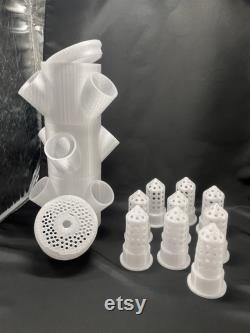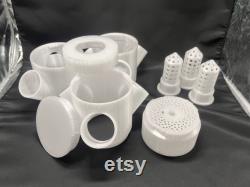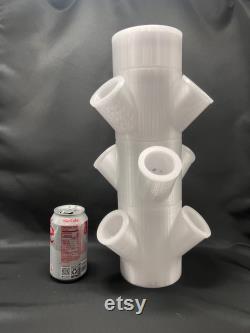 Introducing the hydroponic 3d printed tower: a revolutionary system for sustainable indoor farming. Includes 3 layers of hydroponic tower blocks. The hydroponic 3d printed tower represents agricultural technology, revolutionizing the way we grow crops in indoor environments. Combining the power of hydroponics and 3d printing, this innovative system provides an efficient, space-saving, and sustainable solution for urban farming and food production.
At its core, the hydroponic 3d printed tower is a vertical farming structure designed to maximize crop yield while minimizing the use of resources. Its construction relies on state-of-the-art 3d printing technology, allowing for precise customization and scalability.
Each tower is tailored to meet the specific needs of different plants, ensuring optimal growth conditions. The tower consists of multiple levels or tiers, with each tier housing a set of hydroponic modules. These modules are carefully designed to provide plants with the necessary nutrients, water, and lighting required for healthy growth.
The hydroponic system eliminates the need for soil, relying instead on nutrient-rich water solutions that are continuously circulated through the tower. The 3d-printed construction of the tower offers numerous benefits. First and foremost, it allows for intricate designs that optimize space utilization. The tower is ideal for urban areas where land is limited.
Utilizing vertical space maximizes the crop yield per square meter. Additionally, the 3d-printed tower provides exceptional durability and strength while reducing material waste during the manufacturing process. The use of sustainable and recyclable materials further enhances its environmental footprint, aligning with the principles of circular economy and sustainable agriculture. The benefits of the hydroponic 3d printed tower extend beyond the efficient use of space and resources. By operating indoors, the system eliminates the dependence on seasonal variations, enabling year-round cultivation of crops.
It also significantly reduces the risk of pests and diseases, as the controlled environment limits exposure to external contaminants. Moreover, the tower promotes sustainable agriculture by minimizing water usage.
The closed-loop hydroponic system recirculates water, significantly reducing the overall consumption compared to traditional farming methods. The hydroponic 3d printed tower represents a major step forward in sustainable farming practices. By leveraging the power of 3d printing and hydroponics, it provides a scalable, space-efficient, and environmentally friendly solution for indoor crop production. With its advanced monitoring and automation systems, it offers a promising avenue for meeting the increasing demand for fresh, locally-grown food in urban areas while reducing the strain on land and resources. Pump, tube, light, and bucket not included.
Bucket: available at most hardware stores home depot, lowes, etc.