Indoor Smart Garden, 12 Plants The TerraGarden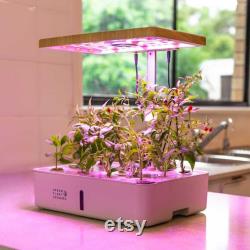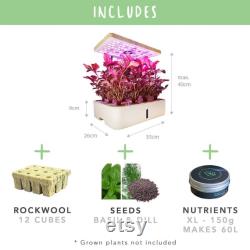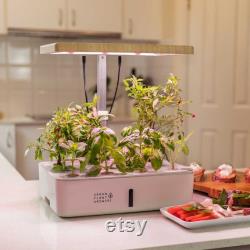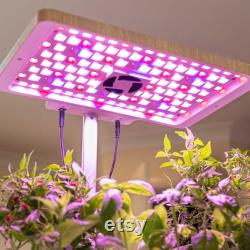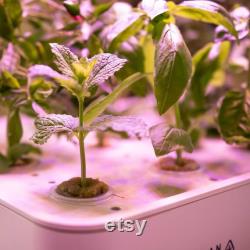 The terragarden is the ultimate solution for growing herbs and leafy greens indoors. Watch your plants grow tall before you know it and adjust the height of the light panel to grow with your plants with its modern design, 6 litre basin, aeration pump & fan, powerful led lights & 12 growing pods - you'll be growing plenty of your favourite food in no time experience massive yields of refreshing fresh food grown at home in all light conditions within weeks. This product comes with everything you need to start growing: 12x rockwool cubes, 12x netcups, 2 seed sachets of your choice, and an extra large jar of hydroponic growth nutrients (150g).
Why you will love it. The terragarden roots float directly in the water that they grow in, this results in high water efficiency - reducing the amount of maintenance that the system needs refill on average once every 2-3 weeks. Experience higher yields and faster growth due to this product providing the perfect nutrient balance and light exposure that your plants need to grow. Modern design fits in most kitchens or living rooms - just metres away from your plate. Save the trip to the supermarket and harvest fresh herbs when you need them.
By growing food in your own home, you reduce the distance food travels to get to you - resulting in a fresher meal on your table and fewer emissions from food miles. High-performance full spectrum led grow lights with two light settings: white and red light, or white, red and blue light. An integrated timer that operates on a set timer that runs 18h on/6h off. Adjustable light fitting which enables you to lift the light higher as your plants grow taller. Built-in fan to provide aeration across leaf surfaces, improving the quality and speed of plant growth.
Fans run on a 30 mins on/30 mins off cycle. Built-in shrouded pump that provides aeration and nutrient circulation for the roots of your plant.
7 litre water reservoir lets you grow and grow and grow before you need to re-water your plants. See-through reservoir cut-out lets you see the water level of the tank - making refilling water a breeze.
Easy setup which can be done in less than 5 minutes. Power supply: ac to 24v dc power adapter (australian outlet). Extra large 150g jar of hydroponic nutrients.
2 packets of seeds included. Dimensions: 38 cm x 38 cm x 32 cm (roughly the size of a milk crate).
Product weight: 2.2 kg. Energy usage: monthly energy cost $3.10. The plant is held in rockwool - which is the product of a rock that has been heated and spun like fairy floss. Rockwool provides uniform oxygenation for a plant's roots, as well as a stable medium for the plant to be secured by. Once the roots grow out of the rockwool, they simply float in our hydroponic nutrient water and grow.
Providing you with soil-free growing that makes this product perfect for your kitchen. The lights themselves replicate the wavelength of light that plants need to grow. This wavelength is usually a small band of blue light between 430 and 450 nm, and red light between 640 and 680 nm which when combined result in a purple glow. With this product however, we have incorporated other wavelengths of light, resulting in a warm white light colour with a slight pink tint which is a comfortable addition to any home.
The lights itself can be adjusted up or down to correctly illuminate your plant's leaves through different stages of it's life cycle. This terragarden has 12 rockwool growing pods so you can grow a variety of your favourite herbs and leafy greens such as lettuce, basil, coriander, parsley, rocket and more all you need to get started are seeds and nutrients of your choice. This item is made of plastic and led grow light, rockwool, seeds.