Induction Sterilizer Foot Pedal Controlled Storage rack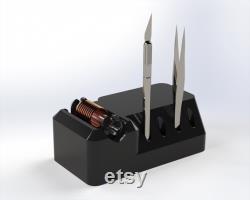 Our induction steriliser heats up the tips of your carbon steel tools to quickly sterilise without the need for a flame. The foot pedal frees up your hands and the multi tool storage rack provides a convenient place to store your tools.
The perfect companion to your mini flow hood. Cleaning products will not damage the plastic. Heat resistant, borosilicate glass shield protects the coil from accidental strikes. Can also be removed for cleaning. High quality, name brand power supply. (iec cable not provided you must source a "c13 iec cable"). No sensitive electronics used in the construction. To begin heating, place the tool tip within the coil and press the footswitch to begin heating. 5 seconds of heating should be sufficient, but play around with the heating times and insertion distance to match your needs. To get an idea of how quickly this device heats up your tools, insert a wet tool and begin heating. You will hear the water begin to evaporate. Tools must be made of carbon steel, stainless steel will not work. This is a high power device and must not be used continuously, time must be provided after heating up your tools for the induction heater to cool down. The cooldown period should be 3 times longer than the active period and the device should not be active for more than 20seconds at a time. Any attempts to bypass the footswitch to remain constantly on may result in damage and this should not be attempted.
Tools can be heated up to 460c (900f) or more. While this can result in a red glow, it may not always be obvious that the tool is hot. Care must be taken around tools as to not burn yourself or property.
Only use with tweezers/scalpels or other small tools. Anything larger may result in damage. The power draw depends on what is inserted within the coil. Improper usage can result in the device drawing too much power. Please reach out with any questions.