ISABELL Home Hydroponic System 7.5' 16 Plant Sites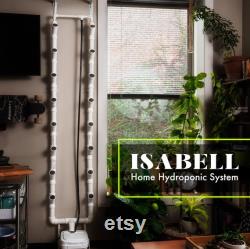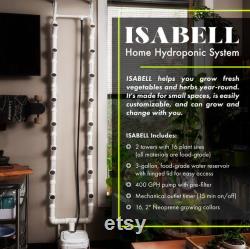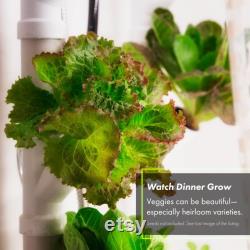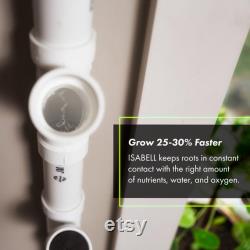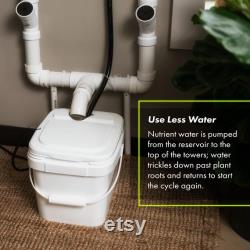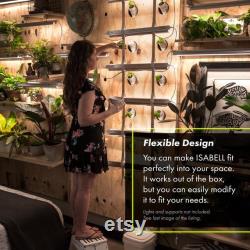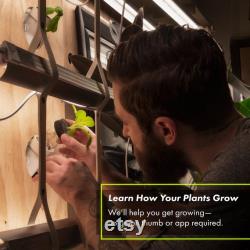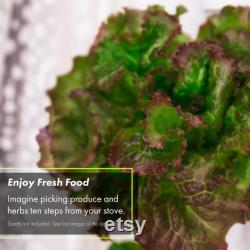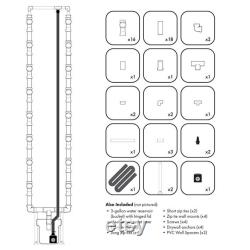 Isabell is a home/indoor hydroponic system that will help you grow fresh vegetables and herbs year-round. It's made for small spaces, is easily customizable, and can grow and change with you. Because isabell is a closed system, plants are grown with significantly less water than traditional methods.
Plants also grow 25-30% faster because the roots are in constant contact with the right amount of nutrients, water, and oxygen. No soil or other substrate is needed. What's special about isabell. Unfortunately, most home hydroponic systems are large, impossible to alter, and expensive. Isabell is skinny, easily modified, and starts at $269.
All of our product packages are created with a few core concepts in mind. That's a little out of reach for us, so we've stuck with proven, widely available, food-grade materials with the goal of providing packages for as little cost as possible.
Works out of the box. We offer all-in-one packages of the cheapest, best materials that are easy to maintainespecially in small spaces.
At our core, we're diyers who want everything to fit perfectly into our apartments. Although all of our packages work out of the box, they are designed to be easily modified to fit your unique needs (and to make it look attractive in your space).
The commercial hydroponic industry is boomingas they innovate, hydroponic technology available to general consumers is getting cheaper and better all of the time. Our modular design means you can easily update any part at any time. We refuse to lock you into a system you can't improve down the road.
A green thumb isn't something you're born withit just means you know what to do to keep your plants alive. Most plant care is simple, so we'll ensure you're well equipped to be successful from seed to harvest. Isabell is for anyone who wants immediate access to fresh, nutritious vegetables and herbs. Specifically, isabell works great for.
People who want to try what they can't get at the store. Grow lettuce that comes from ancient babylon or the basil italian cooks have sworn by for 300 years. Grow over the winter and easily clone plants indoors to get ready for spring. People who live in small spaces.
If you have 15 3/4 of horizontal space on a wall (or even in your shower), isabell will fit. Imagine picking your produce and herbs 10 steps from your stove. If you love watching plants grow, imagine having a built-in space for experimentationclone cuttings and try your hand at growing dinner. If you can keep a basic philodendron alive, you're already set.
Teach your kids where their food comes fromit actually helps them eat more veggies. 2 vertical towers made of schedule 40 pvc, each with 8 plant sites for a total of 16 (all tower materials are food-grade). 3-gallon, food-grade water reservoir with hinged lid for easy access. 400 gph submersible pump with pre-filter.
Mechanical outlet timer (15 min on/off). 16, 2 neoprene growing collars. Please note: grow lights, support straps, seeds and other growing supplies are not included. Please see the last image of the listing for an overview of what's included. Isabell comes with hydroponics hardware you need, but in order to start growing, you'll also need water, nutrients, seeds and a way to start them.
Add the starter grow kit, and you'll receive. 16 organic seed starter plugs. Pre-weighed nutrients (used by pros worldwide for optimum plant growth)enough to feed your plants for about 4 months. Bonus free m&s rare heirloom herb and veggie seeds (look for the gold pouch).
Unless your tower is immediately facing a window (within a foot), you'll need some simple, supplemental grow lights to achieve the best results. In fact, we don't recommend trying to grow indoors without these specialized lights. We don't recommend trying to grow with regular light bulbs. Isabell light support straps allow you to position your lights directly in front of your plantsthe preferred position for optimum plant health.
Standard hardwaresewn pockets with a plastic "d" ring hanger. Upgraded hardwaremetal grommets with a metal "d" ring hanger. 2, 2 stainless steel eye bolt hooks and anchors. Lights are not included with the isabell home hydroponic system or light support straps. We recommend using 2-foot, t8, 24w full-spectrum grow lightsyou'll need 8 total.
While these are usually inexpensive and easily available, online listings and prices change constantly. We've typically had the best success searching for "t8 grow lights 2ft"we like the full spectrum (sun-like) lights and they are typically available for $10-15 each. We're happy to answer your questions, so please message us.