Jiggly Greenhouse 1 1 2' x 3' Black Plastic Greenhouse Workbench Kit Top Plastic Panels Only (Pack of 5)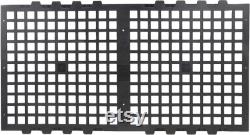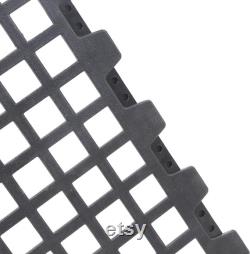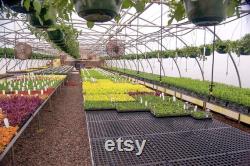 Create a workspace or display area for your greenhouse/ nursery that is not only durable but looks amazing too. With this pack of 5 sturdy, plastic bench top panels that easily snap together, you will be able to create a greenhouse space that you will love. Each plastic panel has dimensions of 18" x 36" x (1.5" x 3").
These workbench top panels are made from high-quality and durable black polypropylene plastic to ensure long-lasting use. These plastic panels are easy to install and are lightweight so moving locations is never an issue. Designed with pre-drilled holes so securing the panels to any desired frame is a breeze. Simple to wash, reusable, and the best way to maximize greenhouse or plant nursery space. Connecting these workbench panels together is made simple with their unique interlocking system design that does not require annoying clips or wires.
These panels can be used with multiple frame types like wood, metal, or pipe. They are rust, uv, and water-resistant to make for the ultimate greenhouse workbench. This kit does not come with screws to secure panels to the frame. Each panels dimensions: 18" x 36" x 9/16 (1 1/2' x 3').
This kit does not include screws or frame. Can be used with any type of frames like wood, metal, or pipe. Made from durable polypropylene plastic.